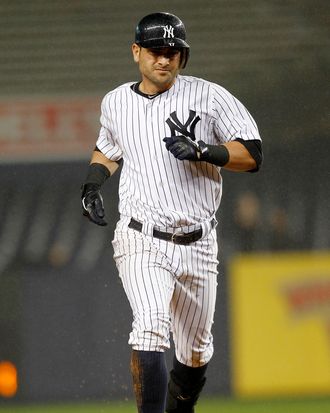 Last night's Yankees game began at 11:08 p.m. One estimate put the crowd at fewer than 2,200 people by midnight. Poor Miss America had to wait around until 1:29 a.m. to sing "God Bless America." And the AP estimated there were roughly 500 fans left inside Yankee Stadium when Mariano Rivera closed out the 5–3 Yankees win and earned save No. 598 at 2:15 this morning.  This wasn't the Yankees decision: It was the league's call to delay the start time by more than four hours because of rain, and to finally get it started well after even the West Coast night games had begun. And that's because the alternatives weren't much better.
The Yankees and Orioles have a game scheduled for this afternoon, and even though both teams must travel to Baltimore tomorrow for a makeup game, a doubleheader today might have made sense … if there wasn't a chance of more rain today. The Yankees have just one more off day this season, and it's in between a game in Seattle on September 14 and one in Toronto on September 16. And though the league could take the chance that the game won't mean anything — and therefore wouldn't need to be replayed — there's a chance one game could mean the difference between the Yankees winning the East and the Yankees settling for the Wild Card. Which would require the game to be played at the conclusion of the regular season — on the day before the ALDS is scheduled to begin.
And so as a result of the late start, lots of fans might have missed the Yankees' back-to-back solo home runs in the seventh — ones that gave the them a 5–3 lead they wouldn't relinquish. The first of those homers was especially noteworthy, not just because it was Francisco Cervelli's third since August 30 (he had exactly one home run prior to this season), but because it was touched by a fan, leading to a review (the original call of a home run stood) and a thousand Jeffrey Maier references.
A.J. Burnett, by the way, is scheduled to throw his first pitch of the afternoon at 1:05 p.m. today. Weather permitting, of course.