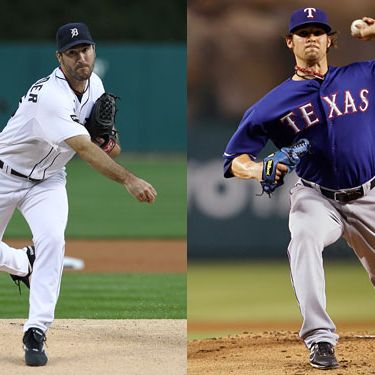 Justin Verlander and C.J. Wilson.
Do you realize it's been ten years since the Yankees got out of the first round of the playoffs by beating a team other than the Twins? Unfortunately, Minnesota will not be qualifying for the 2011 postseason, and so this year, the Yankees will face either Texas or Detroit — whichever has the worse record— in the ALDS. With two games remaining for each team, Texas has 94 wins, and Detroit has 93. But Detroit owns the tiebreaker between the two teams, so if they finish with the same number of wins, the Yankees would play the Rangers. So who would the Yankees rather face?
The Yankees fared better against Texas this year than they did against Detroit, taking seven of nine from the Rangers, and dropping four of seven to the Tigers. And facing Texas also means not facing Justin Verlander, the American League's best pitcher this season. (It also means not facing Doug Fister, who has been outstanding for the Tigers since coming over in a trade with Seattle.)
A match-up with Texas could also benefit a Yankees team that's hit lefties well this season: Texas could use as many as three left-handed starters in the playoffs, if Alexi Ogando (whom the Yankees crushed both times they faced him this year) pitches out of the bullpen. That would leave Colby Lewis as their only right-handed starter, though it's worth remembering that Lewis beat the Yankees twice during last year's ALCS.
Speaking of that ALCS: You'll recall that Josh Hamilton (four home runs, .536 on-base percentage) had a monster series en route to ALCS MVP honors. But Detroit has a big bat in its lineup as well: Miguel Cabrera's OPS (1.027) is higher than Hamilton's (.889) this year. Texas is generally the more dangerous offensive team, but Detroit's offense if hardly anemic: Texas ranks third in the American League in runs scored, while Detroit is fourth (albeit 69 runs behind the Rangers). Texas is second in team OPS; Detroit is fourth. And as of today, both have a team on-base percentage of .339.
The Yankees' weakness entering the postseason is its starting pitching, so facing Texas's lineup is hardly something to look forward to. But it's hard to imagine they'd be eager to face Verlander, considering the year he's had. (It's also probably best to avoid the team whose closer has converted all 47 of his save opportunities this season.) Factor in the left-handed arms in the Rangers rotation, and Texas is probably the more desirable opponent. And at least if they do face Texas, they won't have to face Cliff Lee this time.