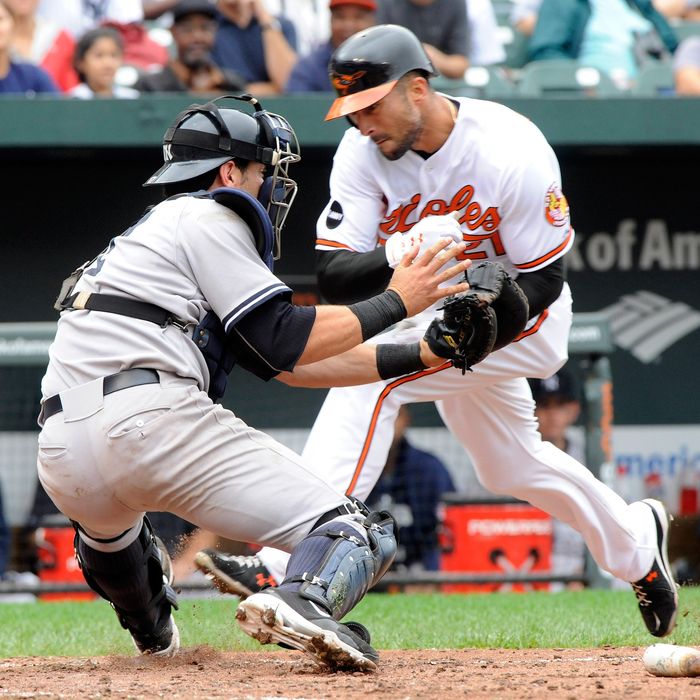 Francisco Cervelli braces for impact.
Okay, that's not entirely accurate: It's not that the Yankees didn't want to play this game at all. They just wanted to play it the last time they were in Baltimore, either before or after Hurricane Irene moved past the area. And so instead of a day off yesterday, the Yankees made a stop in Baltimore before flying out to the West Coast. And for the second time in as many days (and in as many cities), the Yankees lost to the Orioles in extra innings.
Scott Proctor was on the mound in the tenth inning when the O's pushed across the winning run, but to be honest, we don't expect much out of Proctor, a September call-up whose elbow ligament was once described by Dr. James Andrews as "mush." (It's since been replaced.) More concerning is the tying run Rafael Soriano allowed in the eighth. Proctor won't be on this team's postseason roster, but Soriano? He'll be trusted with important innings. It could have been worse though: Curtis Granderson nailed a runner at the plate in that same inning.
Speaking of nailing runners at the plate, the Yankees did it in the seventh inning, too, when Francisco Cervelli hung onto the ball despite being barreled into by Nick Markakis. (What's gotten into Cervelli lately, by the way? True, he didn't have a hit in the game, but between blocking the plate yesterday and his recent, unexpected power surge, it's like he's trying to remind us all he exists now that Jesus Montero, a catcher by trade at least, is here.)
Anyway, Boston lost yesterday as well, so the Yankees' lead in the American League East remains at 2.5 games. They begin a series against the Angels tonight, and though we can't imagine they enjoy a West Coast swing at this point in the season, at the very least, they'll surely appreciate the clear weather forecast in Anaheim this weekend.