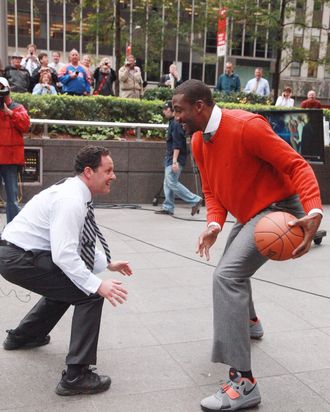 This counts as practice, right?
Forgive all the scare quotes. It's just that there are technically no Knicks right now, we're not talking about a real training camp, and it very well may not happen in November, or at all. These are dubious times for basketball. The matter at hand is Amar'e Stoudemire's notion of an unofficial training camp in which the Knicks — well, "Knicks"— would congregate at the IMG Academy in Florida to work out, run drills and scrimmages, and establish some rapport. That concept just tickles us Knicks fans. This is still a group of mostly unfamiliar faces (about half of these guys have played less than 30 games in a New York uniform), so using this everlasting summer to log some collective court-time behind the scenes would behoove the Knicks as they head into their 2011-2012 season. Of course, that 2011-2012 season has begun to shrivel, the hypothetical tip-off date receding toward the winter months. You can probably guess what this means for Camp Stoudemire.
The camp, you may recall, was originally scheduled for sometime over the summer, but then we learned that Amar'e's back still hurt and Carmelo Anthony was recovering from some secret surgeries. The camp was moved to mid-October, with the understanding that it'd only take place if the lockout had not ended in a timely fashion. It's now [checks sundial] mid-October and the lockout has not ended in a timely fashion, nor does it appear poised to do so. But without a beginning in sight, why hold "camp" now? Speaking with Marc Berman of the Post, Stoudemire explained that the point of the endeavor is "to schedule it at the time where we can take the momentum from the mini training camp onto the regular camp". Training in October for a season that might not start until, like, next year [vomits] certainly wouldn't hurt, but it wouldn't do much for momentum, either. Add in the difficulty of assembling a bunch of bros who aren't actually obligated to play basketball, (Chauncey Billups, for instance, has expressed reluctance to train during free time he might as well be spending with his family) and you can see Stoudemire's point. 
Anyway, mid-November is now the hopeful, tentative date for a mini-camp that may never actually take place. Ideally, it'll be canceled because the majority of the season is resurrected soon, official training camps are hastily scheduled, and there's just no time for the players-only stuff. More likely, the idea will keep getting pushed back as the season moves further into the future, be mostly forgotten when the season is canceled, and remain but a fleeting bit of nostalgia when the game of basketball ceases to exist and the human race descends into post-apocalyptic pandemonium.