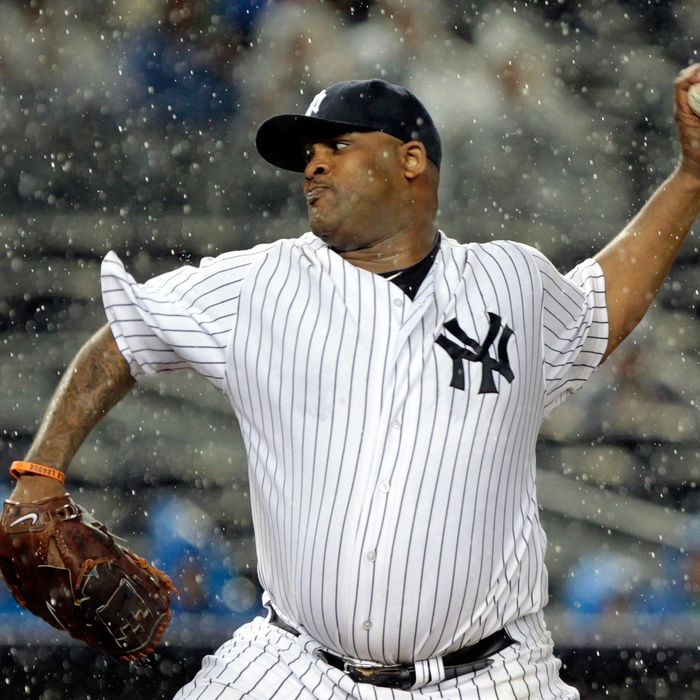 Game Three is an important one in any best-of-five series that's seen two teams split the first two contests. But as soon as Miguel Cabrera closed his glove on the final out of Game Two yesterday, it became clear that it's especially important for this particular Yankees team, in this particular best-of-five series. After all, a loss in Game Three tonight means the season comes down to the right arm of A.J. Burnett — someone who wouldn't have gotten a start at all in this series if Mother Nature didn't hate the city of New York so much.
And imagining the Yankees falling behind two games to one might have been considered unnecessarily pessimistic if they weren't facing the American League's best pitcher in Game Three tonight. Which means that CC Sabathia's start — the one real start he'll get to make in this series — becomes even more critical.
This is the kind of game — two aces squaring off in a pivotal matchup — that makes postseason baseball so great. (Well, it's great for anyone without a rooting interest. This kind of game is often too tense to fully enjoy if you're pulling for one team or the other.) Sabathia is exactly who the Yankees want on the mound for such an important game. The same can't be said about tomorrow night, however: The Yankees had hoped that Burnett's duties in this series would be limited to serving as an emergency long man, and if necessary, perhaps throwing a pie or two.
Friday night's weather affects both teams, in slightly different ways: The Tigers will only get one real start out of Verlander, and if the series goes to five, it'll be Doug Fister, and not Verlander, going against Ivan Nova. But it also means the Yankees can only get one real start out of Sabathia, and have their work cut out for them in Games Three and Four — in one case because Detroit's No. 1 starter has been especially dominant, and in the other because their own No. 4 starter is especially shaky. (If not for the suspension of Game One, Sabathia would have started Game Four on short rest.)
This series has already seen Fister get tagged for six runs (two fewer than he'd allowed in total since mid-August), and Jose Valverde, who didn't blow a save all season, allow Game Two to get plenty interesting despite entering with such a comfortable lead that it wasn't even a save situation. Which is to say: There are no guarantees in baseball. (Burnett's inconsistent, to say the least, but still has impressive stuff to work with. Also: His last start of the season was quite good. And though Rick Porcello, who will start tomorrow for Detroit, has been solid of late, his numbers on the year are unimpressive.)
That said, let's not overthink this: Burnett starting an elimination game is far from ideal, and that scenario can be avoided with a win tonight. Sabathia might not have much of a margin for error against Verlander, particularly if Verlander is as sharp as he can be. But that's what an ace is for: To match up against the other team's best pitcher. It's not necessarily a must-win for the Yankees. But it's close.