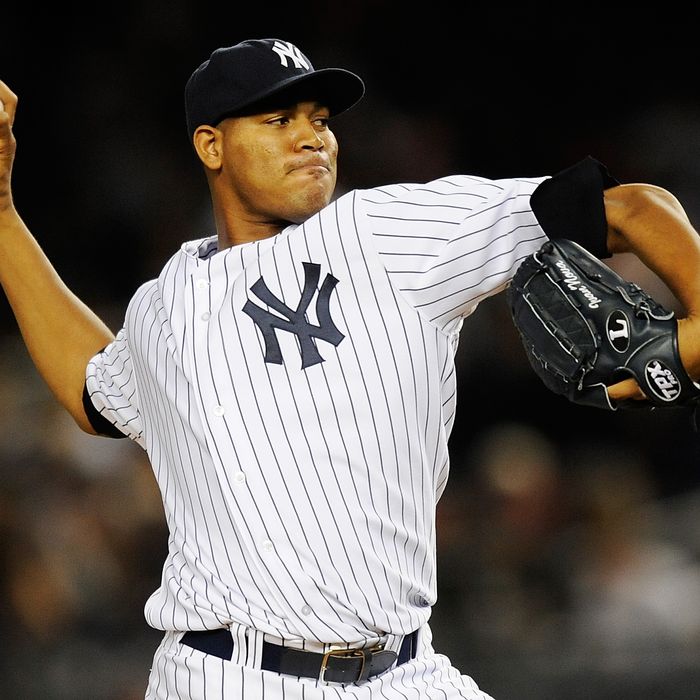 There's no telling exactly how this ALDS would have played out if Game One wasn't suspended by rain, forcing both managers to tweak their rotations, but this much is known: If the series had gone the distance, and weather hadn't been a factor, Ivan Nova would be starting tonight against Justin Verlander. Now, he'll start against Doug Fister, who was terrific for Detroit this season but, nonetheless, is not Justin Verlander.
 Nova pitched well in Game One, and since then, a law appears to have been passed that requires any article about the rookie to include the word "unflappable." (It's close cousin of the Mark Sanchez Poise Act of 2010.) It's an apt description, though: He's drawn comparisons to another homegrown Yankee, Andy Pettitte, and Nova has even studied video of the lefty. Why would he do such a thing? Says Nova: "He has so much confidence in himself and a lot of concentration. That's the thing I have to do."

Nova out-dueled Fister in the middle innings of Game One, but Tom Verducci points out that these winner-take-all games are often decided by the bullpen. In the Wild Card era, starting pitchers are 15-18 in the postseason, and relievers are 10-7. And in the Yankees entire history, 21 series have gone the distance, and their starting pitcher has earned the win in the deciding game just twice. Granted, the Yankees didn't win all those series (and what happened in previous do-or-die games doesn't necessarily impact what will happen tonight), but the point is that the bullpens could be important tonight.
It is worth noting, though, that Nova's been giving the Yankees length more frequently since he returned from the minors: He pitched at least seven innings just twice in sixteen starts before getting sent down, but lasted at least seven innings seven times in eleven starts since rejoining the team in July. Still, it's all hands on deck for the Yankees tonight: CC Sabathia is available out of the bullpen — Jim Leyland says that Justin Verlander won't pitch, by the way — and Mariano Rivera, who's thrown just three pitches in this entire series, is available for more than one inning.
The Yankees have outscored Detroit 26-14 in this series, thanks to blowouts in Games One and Four. They also know they can score runs off of Fister: The Tigers righty had allowed just four earned runs in his final 55 and two-thirds innings during the regular season; on Saturday night, he was charged with six of them in just four and two-thirds. (It didn't help, of course, that he turned the ball over with the bases loaded to Al Alburquerque — who is a real person, despite what you may have heard on WFAN yesterday — and that Alburquerque gave up a grand slam to the first batter he faced.)
The Yankees had the best record in the American League this season, and it earned them home-field advantage in this series. And with the season on the line, we expect that the fans inside Yankee Stadium will be both plenty nervous and plenty loud. Just don't forget that tonight's game-time isn't quite as late as it's been so far in this series: First pitch is scheduled for 8:07 p.m. You wouldn't want to miss a nerve-racking second, would you?