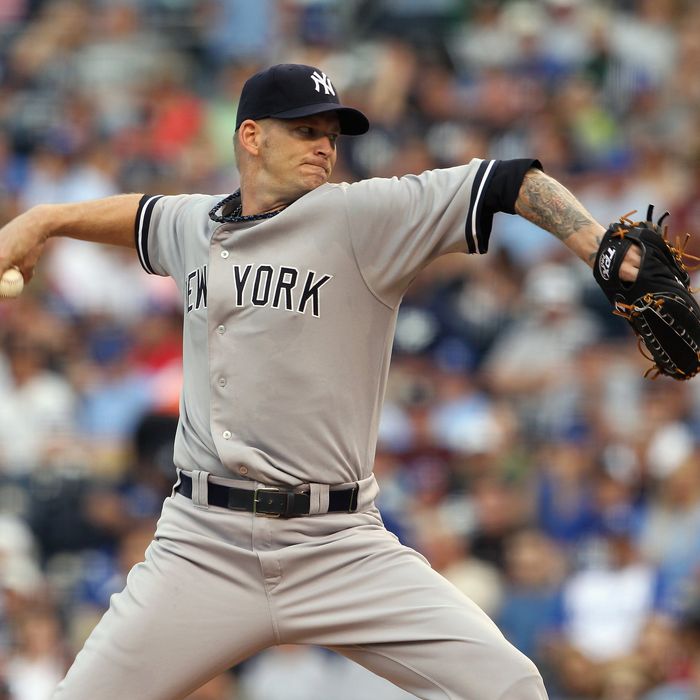 In 2006, the Yankees won Game One of the ALDS against the Tigers, lost Games Two and Three, and faced elimination in Game Four in Detroit. The starting pitcher that day was Jaret Wright, who during the regular season, pitched to a 4.49 ERA and a 1.525 WHIP. It didn't go well: Wright lasted just two and two thirds innings; by the end of the fifth inning, the Tigers had a 7-0 lead; and they'd cruise to an 8-3 victory. Tonight, the Yankees' find themselves in a similar situation, except that as unspectacular as Wright's 2006 season was, Yankees fans never worried about his starts in quite the same way they're worried about A.J. Burnett's outing tonight.
Burnett, of course, is uniquely maddening: His big contract brought big expectations, and it's not like he's incapable of turning in a strong outing — especially not with a curveball as good as his can be. (He said he plans to watch video of his great start in Game Two of the 2009 World Series before tonight's game.) But he's also done more than enough to earn a reputation as an unreliable pitcher all too prone to imploding.
One the one hand, so much has been made of his outing tonight that it would be tough for Burnett to live up to our worst fears: After all, Joe Girardi has said that Burnett could have a very short leash. Then again, these things often happen in a hurry: Remember how Burnett held his own against the Texas lineup in Game Four of the ALCS last year … right up until he surrendered a three-run homer to Bengie Molina in the sixth inning that gave the Rangers a 5-3 lead? That home run changed the series, and hardly helped the growing perception that Burnett could no longer be fully trusted in an important spot.
We'll again note that Burnett wasn't horrible in September this year, and that his last start — against Boston on September 25 — was quite good. And though Burnett's the big story tonight, it would help considerably if the Yankees' bats could provide him with some support against Rick Porcello, a ground-ball pitcher with a 4.75 ERA making his first postseason start tonight. (He pitched in a one-game playoff once, but technically that doesn't count.) And, needless to say, they'll stand a much better chance of getting to Porcello if Alex Rodriguez and Mark Teixeira woke up before it was too late.
Burnett knows the situation as well as anybody. Via the Times:
"I've had good games and bad games during the season. You can say the same thing about postseason, but you can't count me out. I've got to bring everything I've got, and just let A. J. loose out there."
With the season on the line, it's one of those bad games he speaks of that worries us. Maybe we shouldn't count him out, but if he can't at least give the Yankees a chance to win tonight — or, if at the very least, he isn't bailed out by his offense — the math of a best-of-five series tell us that we will indeed be able to count the Yankees out.