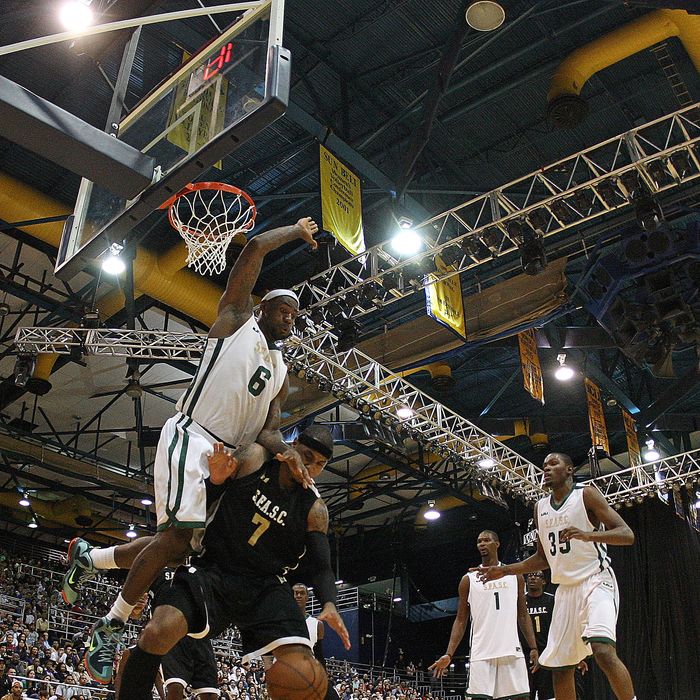 Melo and LeBron doing things that don't count.
NBA lockout talks were relatively stagnant over the weekend, with both sides stewing in preparation for a last round of negotiations this afternoon. Either things get settled today, or the first chunk of our NBA regular season gets slashed. Meanwhile, there continues to be basketball. It never stops, as they say. On Saturday, Amar'e Stoudemire and Carmelo Anthony were teammates in the "South Florida All-Star Classic", a charity exhibition game at Florida International University. The game was streamed live (and is now viewable on YouTube), providing an opportunity for Knicks fans to see Stoudemire and Anthony healthy and in action in some interesting company. The game was organized in large part by LeBron James and drew the likes of Dwyane Wade, Chris Bosh, Kevin Durant, Rajon Rondo, and, most notably, Chris Paul, the Knicks' supposed acquisition target du jour. Paul joined Amar'e and Melo on the black team, a "Big Three" mock-up that was not lost on Knick fans, nor their salivary glands. Isiah Thomas was also a principal organizer and in attendance, (FIU is, after all, his home right now) a fact that wasn't  lost on Knicks fans either, though it probably registered in a different gland. After the event, Melo discussed the possibility of bringing these barnstorming would-be NBAers to New York.
Anthony had the following to tweet post-game:
BTW working on an #Epic exhibition/charity game in NYC……Showtime!!!!!! #NP "I'm Comin Home"
So, if all else fails, New York may play host to another of these makeshift all-star games. Preferably, all else won't fail and New York can play host to real NBA basketball next month. That would be so much better. Please end this lockout. Please give us a full season. Please, please, please, please, please.