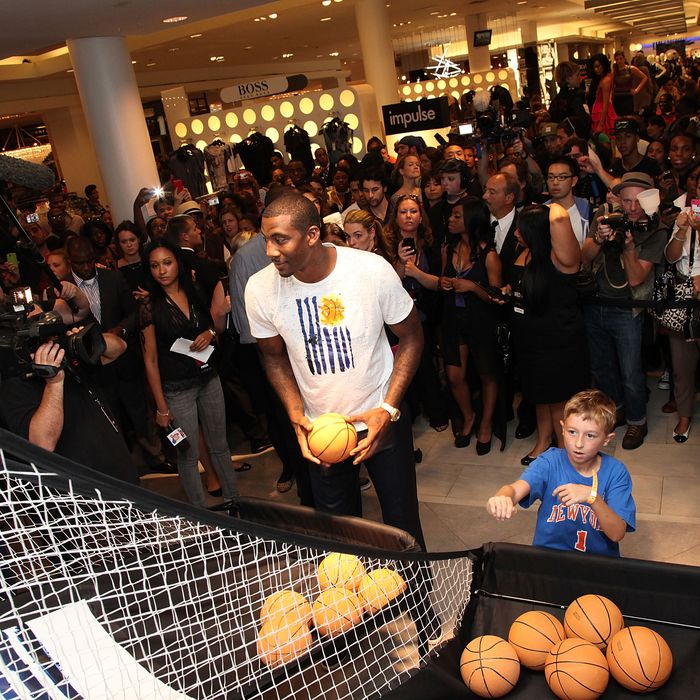 A locked out NBA star's work day.
Amar'e Stoudemire and Carmelo Anthony are plenty busy despite being mostly unemployed. Both have new sneakers to promote, so they're each making the PR rounds, seizing every vacant microphone along the way. With the lockout now eroding their NBA season, Stoudemire and Anthony have spent quite a bit of airtime offering their thoughts on the work stoppage and hinting at their individual plans. The former isn't exactly riveting. The latter, if you're a Knicks fan, feels important. 
The main concern is whether or not the Knicks' stars will play overseas. For some reason, there's an irrational fear (at least in this fan) of one of the Knicks doing a stint in Europe and returning tainted somehow, like with an injury or the black plague. Or worse, Amar'e or Melo could leave and never return, because they just love Belorussian women or the breeze off the Adriatic or flavored aperitifs or something. In reality, they'd probably just stay in shape, avoid rust, and return promptly when the NBA gets its shit together, but being deprived of basketball this long can make a fan hysterical. It's horrifying. Luckily, though, neither notable Knick seems inclined to skip town, even with games being canceled.
Here's Melo, via Newsday:
"I mean going overseas, it won't even feel right," Anthony said. "Someone like Tony Parker is already from a different country [France]. So it's like going back home, they're used to playing there. We're not."
He didn't entirely rule out the possibility, though. Stoudemire, for his part, said on ESPN's First Take that going overseas makes sense for some people, but he'd rather stay in the U.S. to "work on his skills". Later, he went wayyyy beyond that. From the Post:
"If we don't go to Europe, we're going to start our own league, that's how I see it," the Knicks forward said. "It's very serious. It's a matter of us strategically coming up with a plan, a blueprint and putting it together. So we'll see how this lockout goes. If it goes one or two years, we've got to start our own league."
Threats! We'll cross the "league of their own" bridge when we come to it, (we will almost definitely never come to it) but for now, it's just a small, probably unreasonable bit of reassurance to hear that our Knick stars aren't bolting just yet. Even while they're stripped of their New York jerseys and barred from Madison Square Garden, the Knicks are among us. For now, anyway.