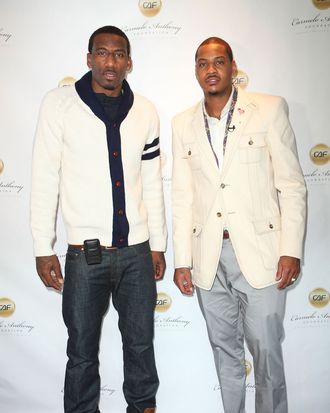 Coming to a special administrative region of the People's Republic of China near you!
Though its foremost qualities are wretchedness, tedium, and an air of contemptible greed, the NBA lockout does have its silver linings. Really! One thing it has going for it, as has been discussed elsewhere, is that it has driven stars to participate in charity games at small venues, often allowing fans of modest means or who reside in non-NBA locales to witness something vaguely resembling professional basketball. Beyond that, it's a chance for players to demonstrate their appeal outside of the league's framework and keep their "brands" alive and so forth. With the lockout now gnawing away the beginning of the season, that trend is burgeoning. The word now is that an illustrious confederacy of NBA talent, including the Knicks' Amar'e Stoudemire and Carmelo Anthony, is poised to extend the barnstorming circuit overseas. 
Amar'e and Melo are expected to join a group that includes Kobe Bryant, LeBron James, Chris Paul, Derrick Rose, and many more — really a solid contingent of NBA superstars — to play exhibition games in Puerto Rico, London, Macau, and Australia. The tour, organized by an "Atlanta business mogul" by the name of Calvin Darden, will cover all that ground between October 30 and November 9, which would otherwise have been the first week and a half of the regular season. Pretty cool, and I hope they make neat "World Tour" shirts with the lineup and all the dates and whatnot. I also hope that everyone stays healthy. A few of the locations on that list are also on this list, so be careful, guys. Don't let any sick-looking folks or Gwyneth Paltrow get too close to you.
Meanwhile, here in New York, talks are humming along with a little more urgency. After like six months of meeting once every few weeks to chortle at each other and drink ice water, the league and NBAPA are meeting for the third straight day, having logged a couple dozen hours of negotiatin' since Tuesday morning. Nobody's expecting a sudden resolution, but the two sides do seem to be creeping ever closer under the supervision of a mediator. Why this level of effort and commitment took this long to arise is beyond me, but it's too late to worry about that. Progress — a word at which basketball fans have to come to roll their eyes — is actually being made. One wonders what would happen to the world tour if negotiations rapidly improved, but we'll take it one step at a time. For the time being, all you Londoners and Macanese bros can stay excited.