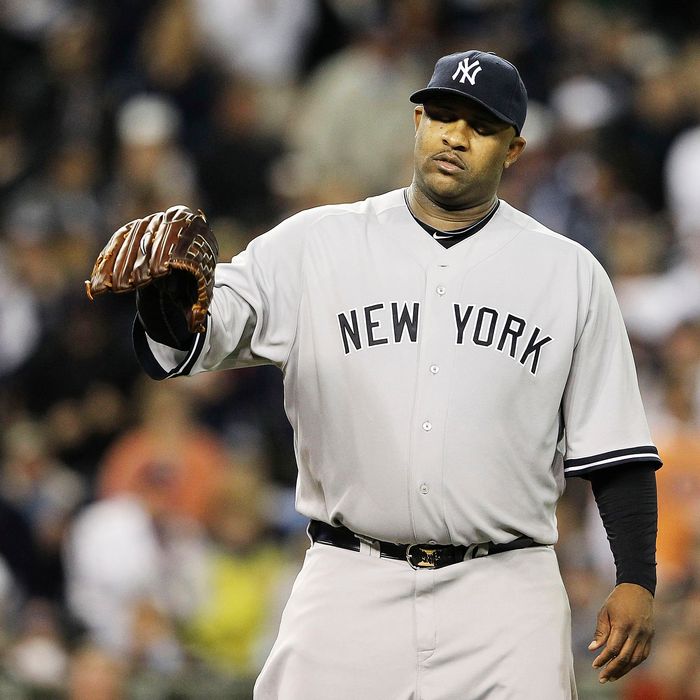 The CC Sabathia who took the ball for the Yankees in last night's pivotal Game Three was the one we've seen all too often lately: He labored on the mound, and his lack of sharpness led to a rising pitch count, which in turn led Joe Girardi to pull him earlier than he'd have preferred. Which isn't to say that this loss should be pinned solely on Sabathia. But the Yankees offense, despite its own problems in the heart of the order, scored four times off of Justin Verlander, who at times last night was unhittable, but made just enough mistakes for the Yankees' bats to pounce. Which means that Sabathia's A-stuff last night, even against a strong Detroit offense, might have meant that the 2011 season wasn't in the hands of, well … we'll get to A.J. Burnett later today.
Sabathia walked six batters in his five and a third innings of work last night — four of them in the first two innings. To put that in some context, he hadn't allowed more than four walks in a game since all the way back on April 22, 2010. Joe Girardi thought Sabathia was getting squeezed last night, but this wasn't the first time in recent weeks Sabathia has thrown a lot of pitches without going especially deep into the game: In three of his final five regular season starts, he threw at least 119 pitches but failed to pitch more than six innings.
Last night, it was the Yankees bullpen that ultimately allowed the go-ahead run, when Rafael Soriano (who unfortunately couldn't hear John Smoltz's warning) served up a first-pitch home run to Delmon Young in the seventh after entering the game with one out an inning earlier. But Sabathia said afterwards that the loss was his fault , and if it turns out to be his last start of 2011, it's hardly the best way for the lefty to enter an offseason in which he can opt out of his contract and try to convince teams to give him a long-term deal that will take him into his late thirties. Which isn't to say that one start, or even two mediocre months, will, or should, stop some team from giving him the money and years he wants. After all, both the Yankees and Red Sox are desperate for pitching — pretty much the dream scenario for a free agent.
But that, of course, is Sabathia's problem, and how the offseason plays out is of secondary concern to how this postseason plays out. On a night where Verlander made enough mistakes to give the Yankees hope, Sabathia made more. He might not have been the goat last night, but he could have been the hero. He wasn't, and now the Yankees face elimination tonight. The Yankees now have to hope that A.J. Burnett's control is better than Sabathia's was. (Gulp.)