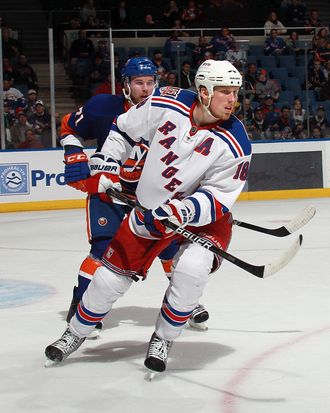 The Rangers open their 2011-12 season tomorrow in Stockholm, and the general feeling about the club is that they're headed in the right direction. They have got a solid young core in place, added the best player on the market in the offseason, and, at the end of the day, still have one of the league's best goaltenders between the pipes. But that doesn't mean there aren't some questions about the team as they prepare to face off against the Kings tomorrow at 1 p.m. New York time. Here are the four biggest.
1. How long will Marc Staal be out? A month ago, this wasn't a question at all. But now, it's perhaps the single biggest concern as the team gets set to begin the regular season. The answer to the question, of course, is that no one knows at this point. Head injuries aren't like other injuries, which generally come with timetables for a player's return. But we do know this: Losing a shut-down defenseman like Staal is especially bad for a team with such young players on the blue line. Which isn't to say that Dan Girardi can't anchor a respectable top unit for the time being, or that Ryan McDonagh or Michael Sauer can't step up their games in his absence. But it's Staal more than anyone that the Rangers want on the ice against the opponent's top line, and when exactly they'll get him back on the ice is unknown right now.
2. Who else will skate on the top forward line? It's generally understood that the addition of Brad Richards will benefit Marian Gaborik, whose numbers (even on a per-game basis) dropped off considerably last year. How much it will benefit him is another question entirely, but Richards still gives the Rangers two legitimate top-line forwards. A line, of course, consists of three forwards, and we suspect the line John Tortorella uses on Opening Night (or can we consider it Opening Day here in the States?) won't be the one he sticks with all season. Technically, Brandon Dubinsky is his best option, but it's in the team's best interest to keep him on the second line, where he's developed chemistry with Ryan Callahan and Artem Anisimov. (If nothing else, two strong lines make the Rangers tougher for the other team to plan for.) For now, left-wing duties look like they'll go to Wojtek Wolski, who isn't necessarily unskilled, but because of his inconsistency, is hardly a true top-line winger, either.

3. How will they come through their crazy opening season road trip? That they're beginning their season in Sweden isn't necessarily a problem: As Rick Carpiniello notes, the last three Stanley Cup winners opened the season in Europe. But they'll also have to endure a long road trip once they return to North America, first playing a game on Long Island, then playing four more in Canada before returning home on October 27, exactly three weeks from today. These things even out of course: More road games now mean more home games later, and they'll play six in a row at the Garden once they're back. There also this: Brad Richards told us last month that he considers the trip to Europe an opportunity to bond, so perhaps all of this will make them a stronger team in the long run.

4. Is this finally the year Henrik Lundqvist gets some real rest? Last year, it appeared as if Martin Biron would finally allow Lundqvist to reduce his workload. But a collarbone injury just before the trade deadline sidelined Biron, and though Lundqvist still made fewer starts last year than he did in any season since he was a rookie, he started the team's final 26 games. A healthy Biron is a major plus for this team — assuming, at least, he maintains John Tortorella's trust with solid, consistent play when he's called upon.