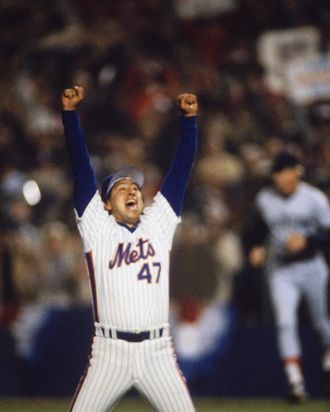 Jesse Orosco, after the final out.
Today, October 27, 2011, marks 25 years since the births of Mets pitchers Jonathon Niese and Pedro Beato — which explains all the buzz in the Mets blogosphere today. Obviously, everyone's excited that Niese and Beato can finally rent a car without paying any extra fees. Way to go, guys!
Of course, we kid. Today also marks 25 years since the Mets won Game Seven  of the 1986 World Series and captured their second championship in franchise history. We won't pretend that the date has special significance to us personally — the Mets aren't our team — but we know the feeling. After all, we've been known to acknowledge anniversaries related to the Rangers'$2 1994 Stanley Cup win.
But today's date certainly means something to Mets fans, like Greg Prince of Faith and Fear in Flushing:
I'm thinking about October 27, 1986, and how perfect it all was. There I go using that word again: perfect. Well, it was perfect. My team won its championship. Bam — that's it. That's the crux, the nutshell, whatever you want to call it. It happened and I walked around with it top of mind for weeks, if not months. I walk around with it in accessible mental storage always. It's still perfect that the Mets won the 1986 World Series, a perfect capper to the 1986 Mets having been the 1986 Mets, to 1986 being one of two years that will never have to pay for its own drinks as long as I'm at the bar and capable of running a tab on its behalf.
Here's a clip of the last out, if you'd like to re-live the madness at Shea Stadium from that night.
And here's something cool in its own right: A local news clip about the crowd that night at the Giants–Redskins Monday Night Football game at the Meadowlands. Fans had brought along portable TVs — the ones with the foresight to bring tape to attach them to the stadium railings deserve to be the subjects of one of those "Real Men of Genius" beer ads — and the reaction was so loud when Ray Knight's home run gave the Mets a 4-3 lead that it apparently caused a Washington false start. Enjoy.