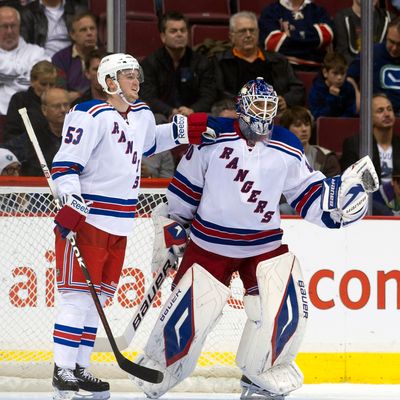 Henrik Lundqvist celebrates his 36th career shutout.
Hockey teams will often present an object of some sort to the player whose performance in a given game stood out. Last year's Bruins handed out a jacket. The Penguins pass around a shovel. And this year's Rangers will present a felt fedora they brought back from Europe to the player of the game each night. Last night, it went to Henrik Lundqvist. And boy, did he deserve it.
Lundqvist made 40 saves en route to his 36th career shutout, but that fact doesn't even do his performance justice. Several of Lundqvist's saves in the 4-0 Rangers were of the spectacular variety, and many came when the score was still tied 0-0. Here's our favorite sequence of the night, which came shortly after Mike Rupp opened the scoring 2:22 into the third period:
Lundqvist kept the Rangers in the game until their offense finally broke out in the third, scoring four times against Roberto Luongo. (If not for Lundqvist's heroics, Ryan McDonagh would have been a candidate to earn the fedora: He got involved on the offensive end, scoring once and earning an assist on a play in which he looked downright Leetchian.) The Rangers still took too many penalties in this game, but at least their kill was impressive. Of course, it helps your penalty kill when your all-world goalie is playing at the top of his game. It was the Rangers first win in Vancouver since 1997 — back when Mark Messier was a Canuck and Wayne Gretzky was a Ranger — but more importantly for this year's squad, it was their first win of the season, improving their record to 1-1-2.