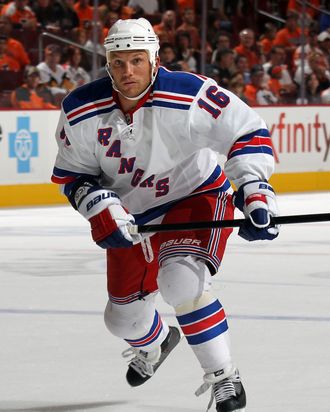 Opening Night at the Garden last week turned into something of a "Bring back Sean Avery" rally. There was that pro-Avery banner that demanded the Rangers "send Torts to the Whale." And fans began chanting "we want Avery" once the game itself got out of hand. Well, it appears that Avery supporters will get their wish: According to multiple reports, the Rangers will place Avery on reentry waivers today at noon. If he's not claimed, he could be in the lineup as soon as Thursday night.
Just two weeks ago, Avery said that didn't think he'd ever be recalled by the Rangers, let alone so early in the season. And in that interview with ESPN New York, he indicated that he didn't believe he was given a fair shot to make the team. (His quote: "I'd say it's pretty obvious. I'll let everyone else decide for themselves.") Avery and John Tortorella never seemed to mesh here, and when Avery was waived prior to the season, Tortorella said that the Rangers simply had better players than Avery. At the time, Tortorella said he wanted to give his young players an opportunity, and that the addition of Mike Rupp (who is currently out with a knee injury) would help fill the void left by Avery's departure.
Here's the thing, though: The Rangers may not need a player whose primary job is to get under the skin of opponents, but there's a place for Avery, the hockey player, on this team. We said it when he was waived: Avery has more skill than he's generally given credit for. He's not a perfect player: To quote Andrew Gross, he's a penalty magnet, though whether that's entirely his fault is another discussion. But he's willing and able to forecheck, and had shown at times that he can be a part of a productive offensive line.
Avery might be best known as a pest, but honestly, he's a better hockey player than, say, Erik Christensen, who beat him out for the final roster spot during the preseason. And so while his popularity is largely the result of his role as an agitator, he'll need to do more than that to earn playing time from Tortorella. Of course, how Tortorella will use him remains to be seen: Avery can't provide much energy if he's not getting much playing time. Avery wasn't at his best last year, but he also saw his role diminished. Perhaps that became something of a chicken-egg-type situation, but Avery's done enough here that we're confident he can be effective under the right circumstances. Whether he can be effective under Tortorella, particularly after what's already happened this fall, is another question entirely.