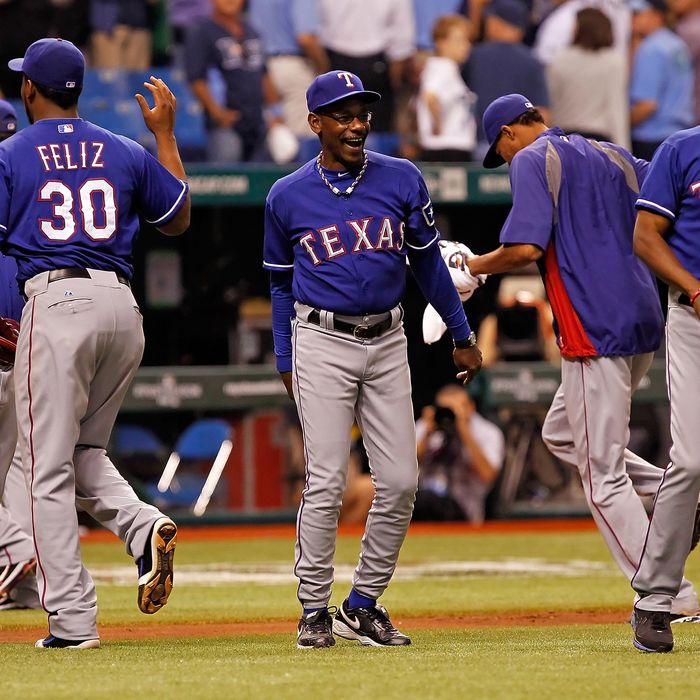 In about an hour, the first of four Division Series games is going to begin. Four! There are four games of almost primal importance today. All this stuff you're going through as a Yankees fan, the restless nights, the zombie mornings, the night sweats that end with you screaming the name "Jose Valverde!" to the awakened shock of your beleaguered spouse/significant other/life partner/person who happened to be hanging out outside your apartment a few hours ago … fans of seven other teams are doing that this whole week. October is pretty intense.
The first game, like the Yankees game tonight, is a potential clincher: The Texas Rangers, the Yankees' foil in last year's ALCS, can advance to this year's ALCS with a win over the Tampa Bay Rays. The Rangers, even though they don't have Cliff Lee anymore, look even tougher than they did last year, thanks to an even better lineup (especially thumping catcher Mike Napoli) and an improved bullpen that rivals the Yankees'. If they can get past the Rays — and it won't be easy; they've got Matt Harrison going against exciting Rays youngster Jeremy Hellickson — they can sit around and just wait for the winner of the Yankees–Tigers series. That could take three days to decide … or it could take about eight hours. You can probably bet, despite their win over the Yanks last year, they're rooting for the Tigers. Not only do they match up better with the Tigers, but for that theoretical series, they'll have home-field advantage.
The other two games today are NLDS Game Threes, and one is more pivotal than the other. The late game — yes, there is a game that actually starts after 8:37 ET — will feature the Milwaukee Brewers trying to finish off the Arizona Diamondbacks in Phoenix. The Brewers have mostly dominated the first two games, and they look primed for the sweep. But one should not get carried away: The Brewers still haven't won a playoff series since 1982, when they were in the American League. Neither Prince Fielder nor Ryan Braun were alive then.
Speaking of 1982, the other game today features the 1982 World Series Champion St. Louis Cardinals attempting to take a 2-1 lead on the Phillies juggernaut, with lefties Jaime Garcia and Cole Hamels facing off. That game begins at 5 p.m. ET, and, at risk of giving up the gig here, we'll be spending it pacing around and screaming randomly at strangers. Just like everybody else with their team, because it's October, and this is all just nuts. This is a crappy day to be sitting at a desk.