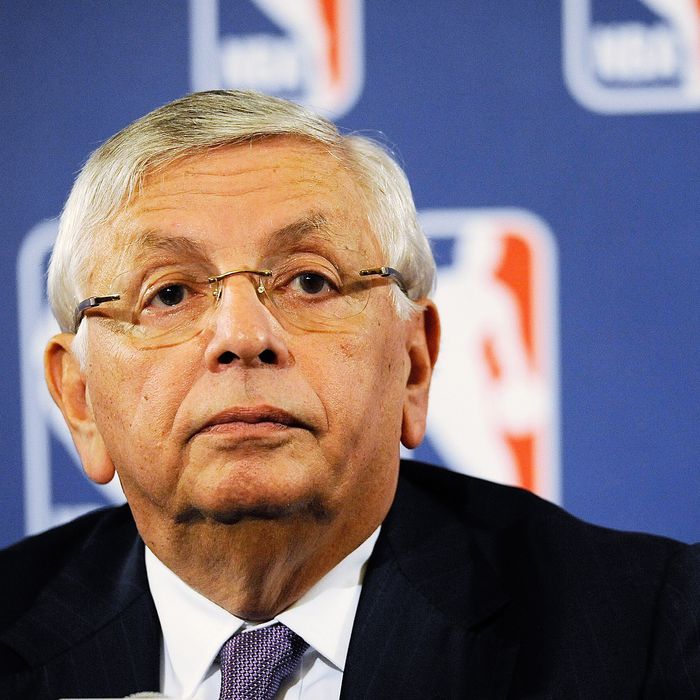 It's not like we didn't know this day was coming: All indications in recent days and weeks pointed towards the NBA canceling the first weeks of the regular season as labor negotiations dragged on, and all the "LET US PLAY" tweets in the world weren't going to change that. Still, it's nonetheless a punch in the stomach to actually see the words in headline form: "NBA Cancels First 2 Weeks of Play." This lockout just got a whole lot more depressing.
In all, the league canceled 100 regular-season games last night, and every team had between six and eight games wiped off the schedule. (The Knicks will lose seven, and the folks who update their website wasted no time in deleting those games from the 2011-12 schedule.) And that might just be the beginning. Here's the head of the players' union, speaking yesterday, via the Times:
"We probably need to miss a few games in order for them to be convinced that there is resolve among the players," said Billy Hunter, the executive director of the players union. "While we don't want to be out here, our players are not going to fall apart. We've spent two and a half years getting them ready. This is the worst-case scenario."
The thing is, this actually isn't the worst-case scenario. It's a terrible one, to be sure, but if the sides can't agree on how to divide some $4 billion in league revenue, and if there's no agreement in place by the end of the month, another two weeks could be wiped off the schedule, and every two weeks thereafter, even more games could be lost. This is only the second time in the league's history that they've lost games to a labor dispute: Back in 1998-99, a lockout forced teams to play an abbreviated 50-game schedule. Considering the real worst-case scenario — something hockey fans are all too familiar with — the thought of a 50-game season doesn't sound so bad right now.
Related: Bailout Ball [NYM]