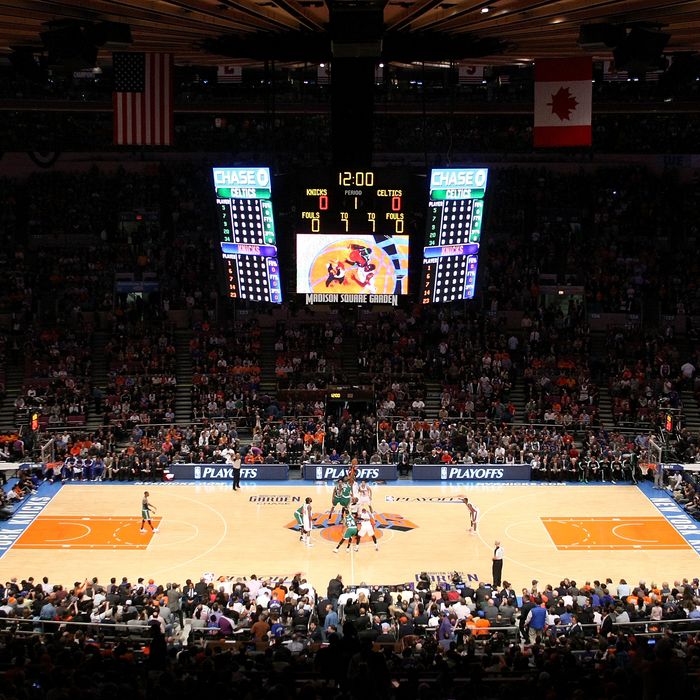 Some Knicks fans are now getting paid not to do this.
The weekend's NBA labor negotiations, as you've surely heard, provided nary a breakthrough and dashed many a hope. After getting us all excited last week, the league and players' union met Friday evening to finally divide up the basketball-related income pie, but, as they have before, just ended up flinging pie in each other's faces. The talks went nowhere, November basketball was officially canceled, and no further meetings are imminent. It also snowed, which had to be the lockout's fault somehow. We've never failed to find a silver lining in these dark times, though, and the Post reports that there is something, however small, to be gained from this despicable plague upon the game we love. 
From Marc Berman:
Knicks season-ticket holders will start receiving their refunds for October's three missed home preseason games. The checks will come with 1 percent interest, as mandated by the NBA. A league spokesman said refunds will be sent between Nov. 1 and Nov. 9.
One percent interest! For three preseason games' worth of refunds, that could easily be a couple of dollars! Better yet, according to the article, if season-ticket holders opted to leave the money in their account, they'll earn TWO percent interest as the cancellations continue! And this in a year when the Knicks' hiked ticket prices immensely! You see empty seats, I see a gold mine! There's a fortune to be made here!
[Weeps.]