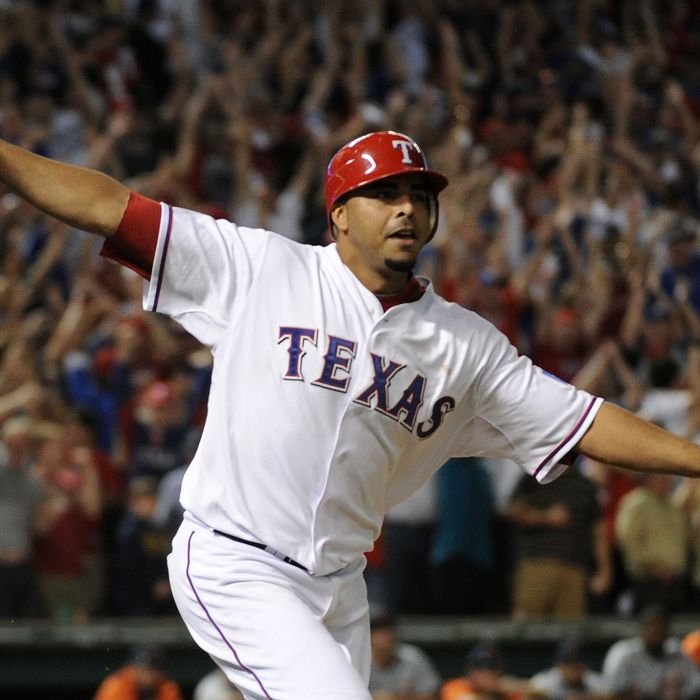 And by "where Robin Ventura could not," we mean: all the way around the bases, after ending a playoff game by hitting the ball over the fence with the bases loaded. Last night, Nelson Cruz launched a walk-off grand slam into the left-field stands to give the Rangers a 7-3 victory in Game Two of the ALCS, and a 2-0 lead over Detroit in the series. Officially, it's the first walk-off grand slam in postseason history.
Of course, Mets fans surely remember that Robin Ventura once ended a playoff game by hitting a ball over the fence with the bases loaded. But he was mobbed by his teammates before reaching second base, resulting in his famous "grand-slam single" and a mere 4-3 Mets victory in Game Five of the 1999 NLCS. Just for the hell of it, here's video of Ventura's walk-off:
The Rangers may have let their teammate round the bases last night, but that's not to say they didn't sufficiently celebrate his homer. There's a lot going on in this (non-embeddable) clip, from Cruz rolling his helmet into the scrum to a teammate throwing a cup of liquid on him before he reaches the plate. Eventually, though, Cruz would indeed step on home plate, officially registering his grand slam.