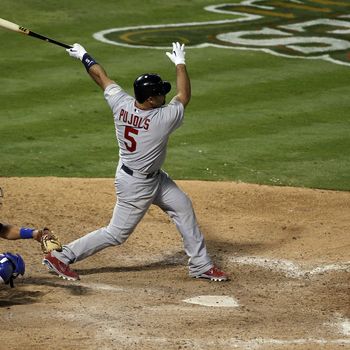 ARLINGTON, TX - OCTOBER 22: Albert Pujols #5 of the St. Louis Cardinals hits a solo home run in the ninth inning for his third home run of the night during Game Three of the MLB World Series against the Texas Rangers at Rangers Ballpark in Arlington on October 22, 2011 in Arlington, Texas. The Cardinals won 16-7. (Photo by Ezra Shaw/Getty Images)
Let me note, before we get into what Albert Pujols did last night, that the St. Louis Cardinals would have beaten the Texas Rangers even if Pujols hadn't hit a single home run. By the time Pujols hit the first of his three – three! – homers, the Cardinals were already ahead 8-6. They had scored eight runs. The Rangers only scored seven runs in total: Had the Cardinals shut it down right then, they would have still won. All right, that's out of the way. Holy crap Albert.
Yesterday afternoon, in an ultimately failed attempt to settle my nerves before a pivotal World Series Game Three, I started digging around Albert Pujols' World Series stats. The man has been unusually fortunate, when it comes to World Series appearances in the first 10 years of his career; this is already his third. (That's a lot for someone who hasn't been a Yankee his whole career.) He had an OK, if truncated, World Series against Boston in 2004 and didn't hit well at all in the win over Detroit in 2006. Coming into yesterday's game, he was 0-for-6 against Texas in 2011.
This struck me as bizarre. One of the greatest hitters in baseball history had yet to bust through on the game's biggest stage. I even noted on Twitter his relatively weak World Series slash line (.BA/.OBP./SLG) coming into last night: .222/.391/.388. (And that he had more career errors in the World Series than homers.) Considering how difficult it is for even the game's top-tier non-Yankees superstars to make it to the World Series – Barry Bonds and Ted Williams, for example, only made it to one – it seemed like a good time to point that out. It's tough to even have the opportunity to show off one's genius in the World Series; Pujols was now on his third try, and hadn't taken advantage of it yet. A pivotal Game Three would, you know, be a nice time to do so.
Pujols' slash line before the game: .222/.391/.388. Three homers, five hits, 14 total bases later? .310/.442/.651.
Cardinals fans have seen Albert do this for a decade now, these games when he is so locked in that it's hard to imagine him ever making an out. (My favorite was a game in Kansas City a few years ago, when, while up with the bases loaded, he purposely fouled off two three-ball pitches in the dirt so the pitcher would have to throw him something even close to the plate. The pitcher did, and Albert obligingly smashed it over the left field fence.) To have one come in the World Series is a delight, yet somehow inevitable: The man was due for an Albert Pujols World Series game. Now he has one.
No one knows what's going to happen with Pujols in the offseason – it is, in all honestly, the last thing on the minds of Cardinals fans right now – or, more to the point, what will happen the rest of this series. It's only 2-1, after all. For all the talk about how much Pujols silenced the Texas fans last night, much as he did in his famous NLCS homer off Brad Lidge six years ago, do remember that the Cardinals lost that series. (Two days later, with Pujols going 0-for-4, in the last game ever at the old Busch Stadium.) That's proof that history can remember a legendary Albert Pujols performance that doesn't come in a series win. But to Cardinals fans, that Lidge homer is only seen as delaying elimination, rather than avoiding it. The Cardinals need two more wins to give last night's game that extra glow. If Edwin Jackson goes out tonight and gives up six runs in the first inning, this series will be right back tied again. (Presumably, though the way things are going, that might just tie the game after the six runs the Cardinals scored in the first.) We all have a long, long way to go.
But man: Holy crap Albert.