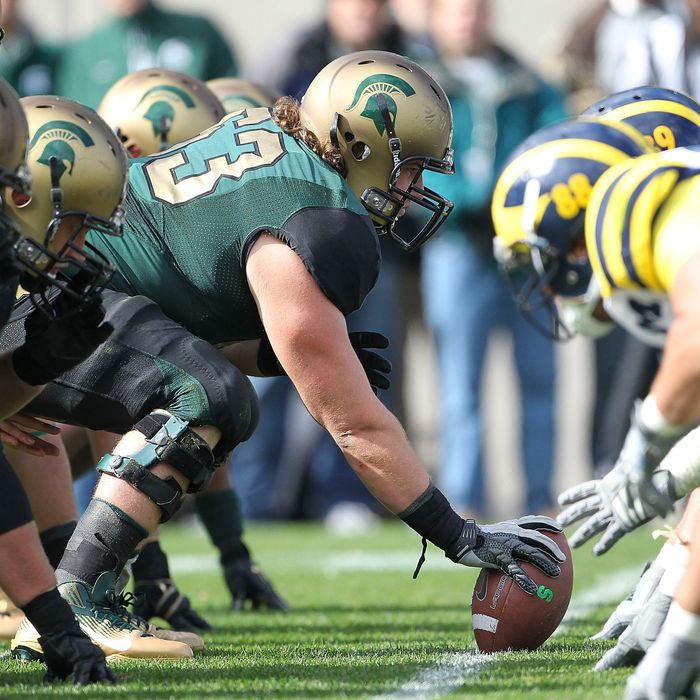 This week, The Wall Street Journal tabulated the dirtiest college-football rivalries, as measured by personal fouls. Michigan–Michigan State, this year's edition of which was played last Saturday, ranks only sixth, but it is the most one-sided, with the Spartans accounting for 80 percent of the personal fouls incurred over the last five years. I should confess my bias here straight-up: I am a Michigan graduate and a huge Wolverine fan. [Ed: attaboy.] I will concede that Michigan State utterly dominated Saturday's game, out-muscling and out-coaching Michigan, and would have won by a lot more had it not been for Sparty's multiple dropped passes, dropped interceptions, and 124 yards in penalties.
That said, the game also highlights the reason why Michigan State has been so dirty for so long. The number of personal fouls is one thing. Some of the plays were highly aggressive extensions of normal play: slight, speedy quarterback Denard Robinson was hurled to the ground twice well after the whistle, while one Michigan ball-carrier was hit fifteen feet out of bounds. Then you have William Gholston using a mixed martial arts move to disable the arm of Michigan's left tackle and best blocker:
And then you have Gholston jumping late on the pile and twisting Robinson's face mask, and then throwing a punch on another play:
Following the game, MSU defensive coordinator Pat Narduzzi exulted, "That's what we try to do. I'm just happy it didn't get called on every snap." Even Northwestern blogger and neutral party Lake the Post is appalled.
I am, too, though I'm not surprised. Thuggery is a foundational element of the program culture of Michigan State football. I'm not sure whether it derives from the team's being named after an ancient culture associated with primitive militarism, the school's almost pathological inferiority complex, or the legacy of its iconic 1987 Rose Bowl squad that was built upon systematic steroid use.
My freshman year of college, I participated in the annual football game between the newspaper staff of the Michigan Daily and the Michigan State News. I played offensive guard, and had to block the largest journalist I have ever seen in my life, giving up 70 pounds. My only recourse when pass blocking was to wait until he was about to run me over and collapse to the ground, letting him fall over and onto my prone body. This is a wildly annoying but completely legal and non-dangerous (well, for the defense, anyway) blocking technique. My enormous opponent warned me to stop. When I refused, after the next play he lifted me off the ground and drove his knee into my groin. This was a football game between student journalists!
In any case, the eyes of the nation are now open to the longstanding football culture in East Lansing. Meanwhile the Spartans, who face a huge matchup this weekend against Wisconsin, seem to be trying to run out the clock on any suspensions by conducting a lengthy internal investigation.