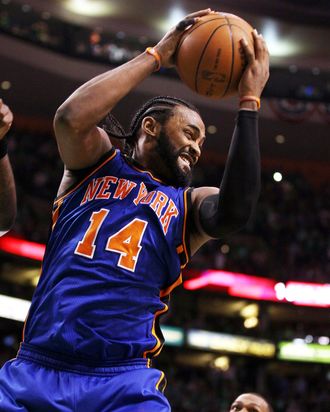 To date, no member of the Knicks has responded to unemployment by setting sail for a professional league abroad. Of those who have reportedly received offers, Amar'e Stoudemire has at least entertained the notion, while Carmelo Anthony has made it sound pretty improbable, and Roger Mason is too busy with union negotiations for the time being. If certain things fall into place, though, a Knick may finally sign a foreign contract. Ronny Turiaf, native of Martinique, noted beard-face, and the closest thing the Knicks have to a regular center, is nearing a deal to play with the French club Asvel, joining French lockout bro Tony Parker.   
The deal, it seems, is only a few signatures and insurance doo-dads away from being completed, and New York's beloved BFG could be in France by week's end. The whole ordeal may be slightly worrisome to Knicks fans, who know full well that the front-court depth chart behind Turiaf is populated by a few mediocre free agents and Josh Harrellson.
One bit of reassuring news is that Turiaf isn't going to China or anything, and his arrangement will undoubtedly include an opt-out clause that would send him on the next plane back to JFK if the lockout gets solved. The main concern, then, is that Ronny will revert to one of his favorite pastimes while overseas: hurting himself. Turiaf and his remarkably fragile legs were in and out of street clothes all throughout his first season with the Knicks, then he went and broke his hand in international competition (for the French team) this summer. Let Ronny run around for long enough, and he's bound to tweak something. 
So, the size-needy Knicks shouldn't have any problem retrieving Turiaf once the lockout finally kicks rocks. We just hope they don't send him back on a stretcher.