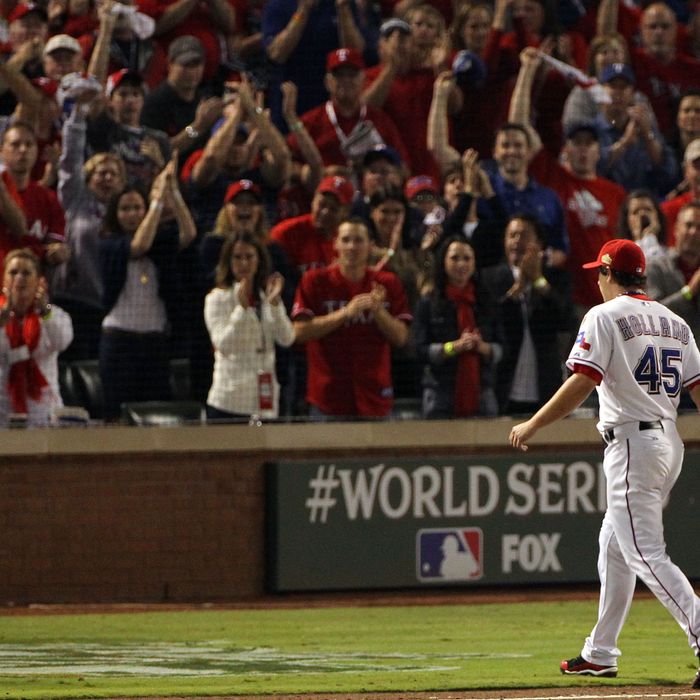 You can't see his mustache here, but trust us, it sure is something.
In the 2006 World Series, the St. Louis Cardinals won Game 1 over the Detroit Tigers thanks to a dominant performance by Anthony Reyes. Reyes threw eight innings, giving up four hits and two runs, and at one point shut down seventeen batters in a row. If you don't know who Anthony Reyes is, don't feel bad; he had only five wins in 2006 — he was the Game 1 starter because the Cardinals had such a long, tough series with the Mets that year, if you remember that series — and in 2007, he would go 2-14. (He's now out of baseball.) I've always thought of Reyes' Game 1 win as this happy, inexplicable thing, just silly kismet, but it wasn't until last night that I realized how the Tigers must have felt: We're getting shut down by this guy? He looks like he's 14. It must have been so frustrating.
It certainly was frustrating for us Cardinals fans to watch our Birds score sixteen runs on Saturday night and then barely hit the ball out of the infield last night against Derek Holland, who helped shut out the Cardinals to tie the World Series 2-2. Holland's a better pitcher than Reyes ever was — he had four shutouts this year, four more than Reyes had in his career — but he'd struggled the whole postseason and looked primed to be knocked around by the red-hot Cardinals hitters. Then he went out and just destroyed the Cardinals, keeping the hitters off balance all night and making Albert Pujols, Matt Holliday, Allen Craig, David Freese, and all the other supposedly mashing Cards batters look like they were swinging a Nerf bat. His final line: eight and a third innings, two hits, two walks, seven strikeouts. It was a total dismantling. Mike Napoli's three-run homer off Mitchell Boggs in the sixth inning is getting a lot of attention, but honestly, as long as Holland was in there last night, one run was essentially the same was eleven. The Cardinals weren't coming back.
It was a classic performance for Holland — Rangers fans will remember it the rest of their lives, no matter what happens the rest of this series — at the most crucial possible time. In a series that has been one crazed momentum shift after another, even though the Cardinals have the home-field advantage (always overrated in baseball), the Rangers appear to be back in control of this series. Their bullpen got a desperately needed night of rest, they have their best starters coming up, and even their struggling hitters (Josh Hamilton, Nelson Cruz) look like they're starting to come around. Of course, the "in control of this series" designation has been used four times this series already; then the team that isn't "in control" wins, and it all turns back around again.
Game 5 is tonight, and both teams have their aces on the mound: C.J. Wilson for the Rangers and Chris Carpenter for the Cardinals. If the Cards can win tonight, they only have to win one at Busch Stadium for their eleventh World Championship. If the Rangers can win tonight, they'll be one win away from their first. It is difficult to overstate the importance of tonight's Game 5. This is only the third series in the last eight years to go six games. It's really looking like it'll be the first in nine years to go seven. If you're a fan of either of these teams, this is too stressful for words. (I should probably let you know that I'm sort of losing my shit over here, on a nightly basis.) But if you're just a fan of baseball, it's now clear, with three games left to go: We're watching a truly classic World Series.
Seriously, though: About that mustache …