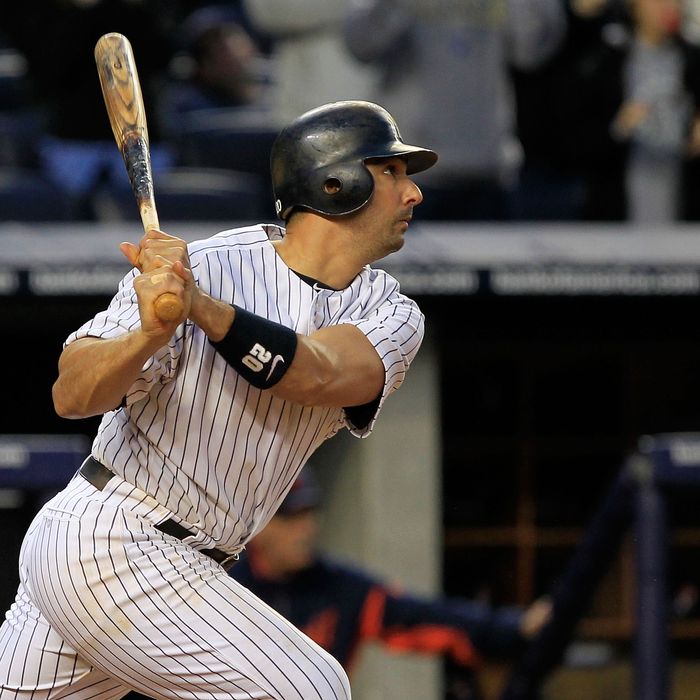 Last night might have been the final Yankees game for a handful of players. Russell Martin, for example, is a free agent, and CC Sabathia can opt out of his contract (though we expect he'll be back next year). Brian Cashman's contract is up as well, and even the polarizing broadcast duo of John Sterling and Suzyn Waldman don't yet know their fates for 2012. But it may also have been the final game of Jorge Posada's Yankees career.
And if it was, he went out on a high note: Posada went 6-for-14 in the ALDS, walking four times. That's an on-base percentage of .571, best of anyone in the series with at least three plate appearances. At one point, it seemed like his final Yankee Stadium at-bat of the series might have been his ninth-inning triple in Game Two — and wouldn't that have been a surprising way to say good-bye — but he had one more strong night last night, albeit in a losing effort. Posada was in the lineup in this series because the Tigers featured an all-righty starting rotation, and Posada's numbers against righties this year were respectable (as opposed to his numbers against lefties, which were pitiful). But never could the Yankees have expected this.
It's been a long season for Posada, but his go-ahead single on the night the Yankees clinched the division title stood out during an otherwise below-average September, and during an ALDS in which so many Yankees bats were quiet, Posada was locked in. If the cheers he heard this week were the final ones of his Yankees career, they weren't simply a thank-you for a memorable career; they were a thank-you for providing offense in a series in which a couple of runs could have made a huge difference.
Still, despite an exciting finish, this was the worst season of Posada's career, and he turned 40 in August. (Let us be clear, by the way, that there's no shame in this; it's what happens at the end of a career.) And finding a spot for Posada will be even more difficult on next year's team, with Jesus Montero likely to get a lot of at-bats as the designated hitter, and the aging left side of the infield likely to get their share as well.
After the game, Posada said he didn't think about whether it was his last game in pinstripes, or whether he'd want to return next year considering the diminished role he played this year. We won't write the obituary on Posada's career now, because it isn't officially dead yet. But it's hard to imagine he'll be back in 2012. And if he's not, at least we have one final strong week to remember him by.