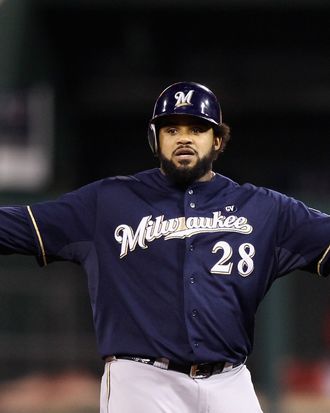 In today's Daily News, John Harper writes that "you can't rule out the possibility that [Prince] Fielder could wind up a Yankee." In his scenario, if the Yankees lost CC Sabathia and traded Jesus Montero for a pitcher, it's possible they'd throw money at Fielder to become the team's full-time DH. In fact, the News really wants you to know that the Yankees are a potential landing spot for Fielder. From another article today, about how Fielder will get paid this off-season, despite concerns about his weight: "Someone, whether it is the Yankees or Cubs or another bidder, will award Fielder with a contract bigger than his belly." 
Yes, we wrote yesterday that trading Montero — which again, we don't think will happen — could change what the Yankees look to do on the free-agent market. But signing an All-Star first baseman in his prime seems pretty unlikely when he wouldn't even be able to play every day. Remember, they already have a first baseman (making plenty of money himself) and would need to give a lot of days at DH to the left side of their infield, even if Montero was out of the picture. As Craig Calcaterra writes over at Hardball Talk, a side effect of the Yankees' early exit from the playoffs "is that a bunch of New York reporters now have nothing to do except to come up with silly trade and free agent ideas." He's right —  and it's pretty easy too! Here's what else we came up with, off the top of our head:
• They could sign Jose Reyes, let Derek Jeter manage, and move Joe Girardi to catcher, where he can mentor Montero.
• They could sign David Ortiz to serve as the regular DH, then trade Montero to the Red Sox for Ryan Lavarnway and a bunch of really awesome headphones.
• They could sign Albert Pujols to serve as the No. 2 starter in their rotation.
• Or they could throw a bunch of money at CC Sabathia, then try and do the same with C.J. Wilson.
We suspect they'll do the last of those.