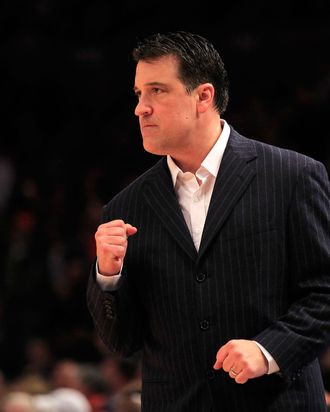 Steve Lavin's tenure as coach of St. John's has already been the most successful in recent Red Storm history, and none of his players have even taken the floor yet. The infamously maned coach took the college basketball world by storm when, shortly after leaving his job as one of ESPN's few truly enjoyable television personalities, he started bringing in some of the top recruits in the country. (Even if some of them have yet to qualify academically.) 
Sometime later today, at Sloan-Kettering, Lavin will undergo a procedure to deal with his prostate cancer, which he disclosed in April. Doctors are optimistic: "It is highly likely that this treatment will completely cure Coach Lavin's condition, and because of his age and overall health, we anticipate a full return to his coaching duties," said Dr. Peter T. Scardino, the chairman of the surgery department at the Memorial Sloan-Kettering Cancer Center.
If you've haven't had the opportunity to meet Lavin, know that he is almost exactly like he is on television: energetic, funny, urbane, and extremely entertaining. It had always been his dream to coach in New York City. When we were working on a story on St. John's last year, we were scheduled to meet Lavin not at his office or in some gym, but at a dark Tribeca wine bar, where Lavin was a regular. (He was wearing a suit, of course.) He is an absolute joy to have as a sports personality in this city, and one does nothing but wish him the best during this time. It's not known whether Lavin will be ready to coach the Red Storm at the beginning of the season, but we would absolutely not put it past him.