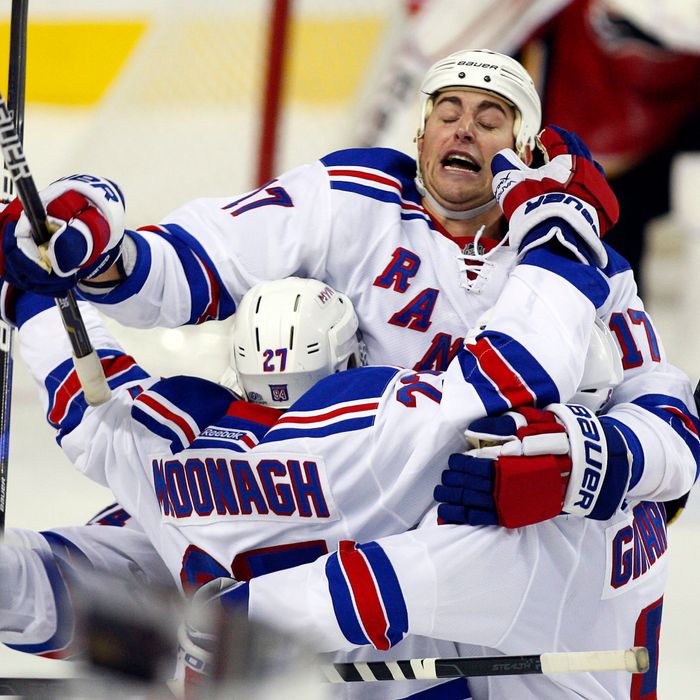 Ryan McDonagh celebrates the game winner with Brandon Dubinsky and Dan Girardi, both of whom earned assists.
We have to be careful how we talk about hockey around the office these days. Had we spoken the words in that headline out loud this morning, for example, we're pretty sure Will would have taken a swing at us. (As he'd have every right to, by the way.) But the hockey Rangers did indeed win in dramatic fashion last night, with Ryan McDonagh scoring the game-winner in Calgary with 1.8 seconds remaining in overtime.
If you're keeping track, that's McDonagh's second goal of the season — one more than he had in 40 regular-season games last year. And in the early going this year, he's increasingly gotten involved in the offensive end. He tallied two points in the Rangers' win in Vancouver on Tuesday night, and he had another quality scoring opportunity earlier in overtime last night. It's a welcome development for the 22-year-old: He looks both confident and competent with the puck, all while logging more than 25 minutes in the absence of Marc Staal. Granted, the season's only five games old, but that Scott Gomez trade looks better and better every night.
Speaking of that trade: Marian Gaborik, the man it cleared cap space for, scored his fourth goal in five games last night. He and Brad Richards look good together in the early going, and Gaborik has looked far more like the player who scored 42 goals two seasons ago than the one who scored barely half as many in 62 games last year. Brandon Prust scored the other Rangers goal last night — a shorthanded tally set up by Brian Boyle's work along the boards — and actually, Prust's presence can be traced, sort of, to the Gomez trade as well. Chris Higgins came over in that deal, and was part of the package that Glen Sather sent to Calgary for Prust and Olli Jokinen. Jokinen was thought to be the bigger acquisition at the time, but it's Prust who's become an important part of this team, and who played a solid game last night after being benched for a time in Vancouver earlier in the week. (After scoring against his former team, Prust was awarded the team's "winning hat.")
And hey, we're finally less than a week away from the Rangers' home opener next Thursday. In the meantime, their monthlong International Road Show continues tomorrow night, in Edmonton.