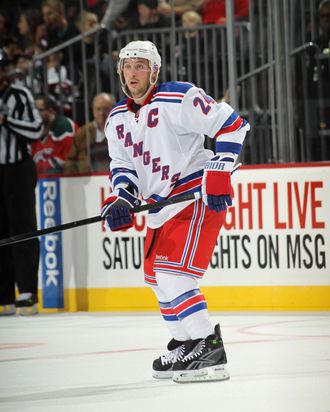 Every time we think the Rangers are on the verge of taking a big step forward, we can't help but remember how high expectations were back in 2007, when Chris Drury and Scott Gomez arrived via free agency. Some picked the Rangers to win the East that season, and, as we wrote when word of Drury's buyout first surfaced, Opening Night at the Garden was downright electric. Obviously, that Rangers team did not take a big step forward that year. Just like they did in 2007, they'd lose in the second round of the Stanley Cup playoffs. But the lesson was learned: It's best to keep expectations realistic.
And we get the impression that's happening now. Sure, there's the occasional preview that indicates they're a team that's built to succeed in the playoffs this year, but there's also more cautious voices, who understand that becoming an elite team isn't a quick process, and that this summer was simply one expensive step. Certainly, this is talented team, with a higher ceiling than they've had in years. They're moving in the right direction (though we'll admit we're more than a little worried about Marc Staal's health these days). The next step isn't winning the Cup. The next step is not having to sneak into the playoffs, and instead earning a matchup that gives them a better chance to advance out of the first round. Could they go further than that? Sure. But again, it's a process.
They've still got a ways to go before they can entertain serious Stanley Cup dreams, both in terms of developing the players they already have, and in terms of filling some holes on the roster. But in the meantime, we get to watch two very talented forwards play together on a top line. We get to watch three homegrown players — Callahan, Dubinsky, and Anismov — build a special chemistry on the second line. We get to wonder how good their young defensive corps can be (even if we're aware that seeing someone take a step backward isn't out of the question). And we get to watch one of the best goaltenders on the planet. That's all pretty great. These are optimistic times, and the puck drops on the 2011-12 season in about an hour. We can't wait.