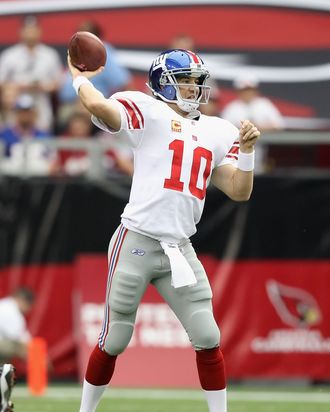 Eli Manning, fowler extraordinaire.
The Giants had a road-heavy first month, playing three games away from the newly christened MetLife Stadium. They can unpack their suitcases and get comfortable now, with the month's remaining three games (there's a bye in there, too) all at home, starting with Sunday's matchup against the Seahawks. Recent history bodes well for the G-friends, in several senses. For one, New York has squashed the Seahawks the last two times the teams have met, routing them 41-7 last season and 44-6 back in 2008. More recently, New York has won three straight, including their last two against opponents with avian mascots. These Giants care not for birds!
These particular birds may be more troublesome than they appear. The sputtering Seahawks are just 1-3, but got a little rowdy toward the end of their most recent loss to the Falcons. From the Post:
Down by 20 points in the third quarter last week against Atlanta, the Seahawks had little choice but to go to a hurry-up offense. That meant few huddles, quick decisions and quicker snaps.

The results were startling. After 14 quarters of offensive slog to that point, the Seahawks scored 21 points in the final 25 minutes, falling just short in a 30-28 loss to the Falcons.
So, though they have little to show for it, Pete Carroll's bros do have a bit of momentum and perhaps even some confidence in their offense heading into this weekend. They'll certainly go back to the hurry-up stuff this time around, so the Giants defense ought to be sharp as ever. In all likelihood, that defense will be without Justin Tuck for the second straight week. The neck injury that Tuck suffered during preseason continues to cause him trouble, and though he practiced yesterday, his status is still uncertain. Whenever Tuck does return, he'll be wearing a pretty badass face mask with more tightly spaced rungs to prevent people from grabbing and jerking his head around (someone might literally get caught face-masking!).
Going the other way, Brandon Jacobs's knee injury has been deemed a sprained MCL, and it may keep him out of Sunday's game, shifting most of the ball-carrying duties to Ahmad Bradshaw. Meanwhile, New York's coaching staff insists that Mario Manningham, despite being concussed a few weeks ago and losing plays last Sunday to Victor Cruz, is still a starting receiver. Any perceived struggles for Manningham or miscommunication between him and Eli Manning were apparently not enough to cost him a spot on the first string just yet. No matter who he's feeding, Manning may be busy Sunday. With Seattle looking to hurry and New York's rushing corps depleted, this has the potential to turn into a shoot-out. After some pretty choice bombs at the end of last week's comeback win, Manning seems to be up to the task. Or not. Or maybe that's not even the task. Analysis!
If all goes well, it'll be four straight wins and three straight bird defeats. Three birds! They could make a turducken! Or … uh … a cardseagle!