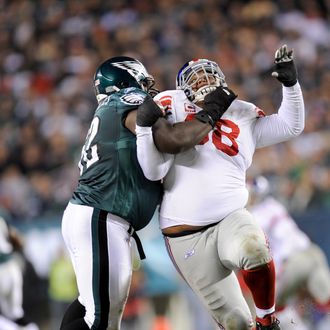 Flailing arms could be adorned from now on.
The Giants defense is a motley bunch. With a number of first-stringers down for the season, and others in and out of the year's first five games, defensive coordinator Perry Fewell has had to plug holes on the fly, resulting in an occasionally incongruous squad comprised of folks who might not be entirely comfortable together. Communication and cohesion have been understandably lacking, leading to miscues, particularly against no-huddle attacks, like that of the Seahawks last week. This being the case, Fewell is doing everything in his power (note that his powers do not include telekinetically mending ligaments) to prepare Giant defenders, whoever they may be on a given Sunday, for anything. One possible addition, at least for now: wristbands.
Fewell has suggested that he may equip his players with wristbands listing the defensive play calls starting this Sunday against Buffalo (his former employer). Verbal communication can be slow and uneven, leading to missed assignments and wide-open offenders. The wristbands would hopefully cut out some of the time and room for error, and get everybody on the same page quickly enough to respond to the hurry-up offense of clever opponents, who know full well that they're facing a medley of youngsters and reserves. The new bangles are pretty much the best Fewell can do at this point, because there's little good news on the personnel front.
Key defensive end Justin Tuck, who's missed the last two games with recurring neck and groin soreness, did not practice on Thursday. He declared himself "day-to-day" and "hopeful", but previous weeks suggest that he'll still be sidelined come Sunday. With the remarkably hot Bills (4-1) coming to town, that's a shame. The Giants could use the help in their last game before a much-needed bye week. For now, it sounds like that help will come solely in the form of wristwear.