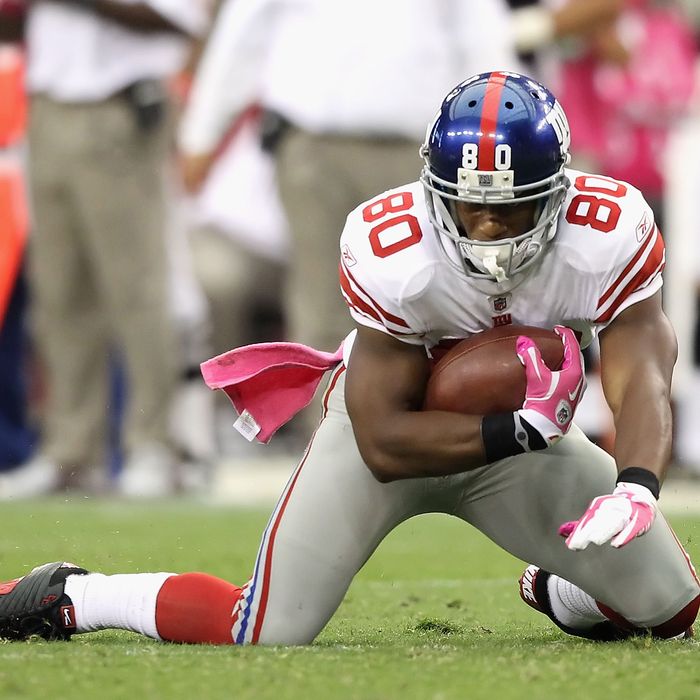 The prevailing story from the Giants' win in Arizona last night — the one that f*olks are talking about — regards a bizarre play and the questionable call thereafter. On first and ten, with the Giants down 27-24 and around three minutes remaining, Eli Manning scooted away from tacklers and hurled a pass to the cutting Victor Cruz about fifteen yards away. Cruz stopped, turned upfield, then lost his footing and fell to the grass, which had proved inexplicably slick all afternoon. Cruz promptly got up, not to keep running but to prepare for the next play, ditching the ball on the ground behind him. The Cardinals defenders, never having touched Cruz, treated the abandoned pigskin as a fumble and pounced on it, much to the delight of the home crowd. The referees whistled the play dead and turned to the NFL rulebook, which proved minimally helpful.
The refs, to everyone's dismay and to Giant fans' delight, gave Cruz the benefit of the doubt and ruled him down. This was highly questionable. The rule that cuts closest to the issue, good ole 7.2.1(e), dictates that a player may "give himself up", or down himself by deliberately falling to the ground, kneeling, sliding, etc. Unfortunately, the rule covers only bodily submission, and not the surrendering of property. Pretty much everyone agrees that Cruz's descent was an accident, and therefore outside this particular edict. His desertion of the ball, though, seemed far too nonchalant to be anything but intentional. Cruz didn't really "fumble" — not in the layman's sense of the word — but with nothing in the NFL's byzantine rulebook to define and except what we all saw, he technically did and it probably should have been Arizona ball. In any event, New York kept possession and, really, this wouldn't be much of a story if the Giants hadn't gotten themselves to that point and capitalized on it later.
That play's prolonged review ended up being the eye of a five-minute offensive storm by the Giants. It was sandwiched between Manning's pinpoint feed to Jake Ballard in the back of the end zone and his touchdown toss to the streaking Hakeem Nicks, which combined to erase a ten-point Arizona lead and put the Giants up for good.
Most of Manning's success came in those final five minutes. Until that point, Ahmad Bradshaw and Brandon Jacobs (each with a rushing touchdown) were the only Giants who could finish a drive against a pretty feisty Arizona defense.* In the other direction, Beanie Wells had a career game for the Cards, truck-stickin' folks left and right for 138 yards and three touchdowns on 27 carries (each of which seemed to end with a scuffle of some sort). If it weren't for some estimable stops and goal-line stands by the Giant defense, this one may have gotten out of hand early, because the New York offense was mostly sputtering. Once crunch time came around, though, Manning's much-ballyhooed pocket poise proved potent, especially in contrast to Kevin Kolb's flighty, scrambling ways in the face of ample pressure from the returning Osi Umenyiora and company. Manning's five-minute flurry was some fairly impressive stuff, and its eerie resemblance to his Super Bowl XLII heroics in that very same stadium was lost on nobody.
So, yesterday's story had a happy ending, but players best not forget the moral: If you're in possession of a football, you have two options. One is to treat it as you would a piece of airline baggage. Do not leave it unattended or allow anybody but official personnel to handle it. Alternatively, if you simply must surrender your football, do so with the undeniable intention to resign and supplicate to the football gods above. Give yourself up in full, or don't do it at all.
That makes it three straight for the Giants, who sit tied with the Redskins atop the NFC East and head home to face the middling Seahawks next week. Movin' right along.
*This post has been corrected to show that Brandon Jacobs, not Ahmad Bradshaw, scored the second of the Giants' two rushing touchdowns.