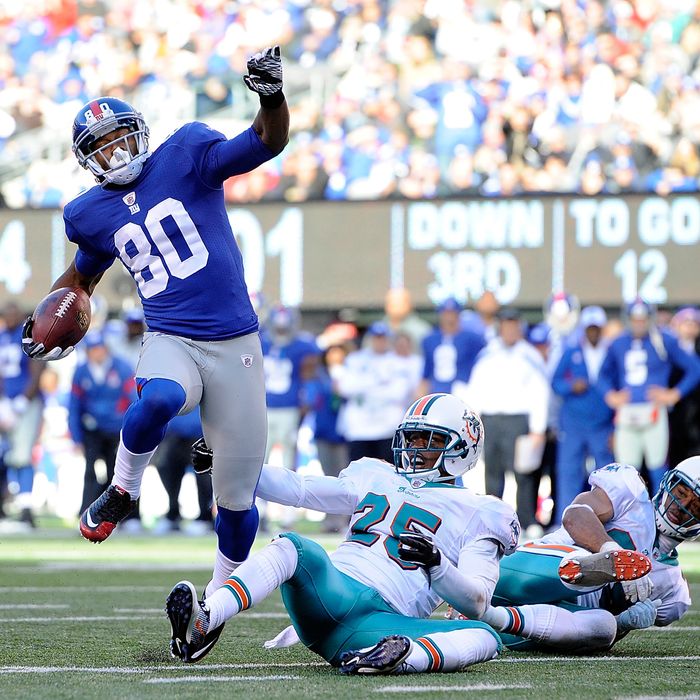 The Giants beat the winless Dolphins yesterday, just as they were supposed to, and they improved to 5-2, just as everyone figured they would. Of course, getting that win wasn't quite as easy as the Giants would have hoped: They took the lead for the first time with under six minutes to go, and the game wasn't decided until Miami's final drive ended with a Corey Webster interception, sealing the 20-17 win. Yesterday should have been the easiest game on their schedule; instead, they had to rally just to avoid a devastating, embarrassing loss. But they did avoid that loss, and heading into the most difficult stretch of their season, they've got a two-game lead on the rest of the NFC East.
Eli Manning had another strong game yesterday, throwing for 349 yards, two touchdowns, and no interceptions. And in the fourth quarter with the Giants down by four, he led a six-play, 53-yard drive that culminated with Victor Cruz's touchdown with 5:58 remaining. But this game also saw the Giants drop too many passes — Eli's numbers really should have been even better — and they're still struggling to run the ball. Against a better team, those kind of issues could have cost them the game. But not against a team that finished the day as one of the only two winless teams in the league.
This is familiar territory for the Giants: It's the seventh time in Tom Coughlin's eight seasons here that they've started 5-2 through seven games. (They also had one 6-1 start, back in  2008.) What's happened from there has varied quite a bit: They've had years where they missed the playoffs, but they also won a Super Bowl in that span. Over the next several weeks, we'll learn exactly how good this team is. In their next five games, they'll face New England, San Francisco, Philadelphia, New Orleans, and Green Bay. That's just a brutal stretch, and surviving it will require them to win get the kind of big win that eluded them last season. This is where the season really starts to get interesting. This is where it gets fun.