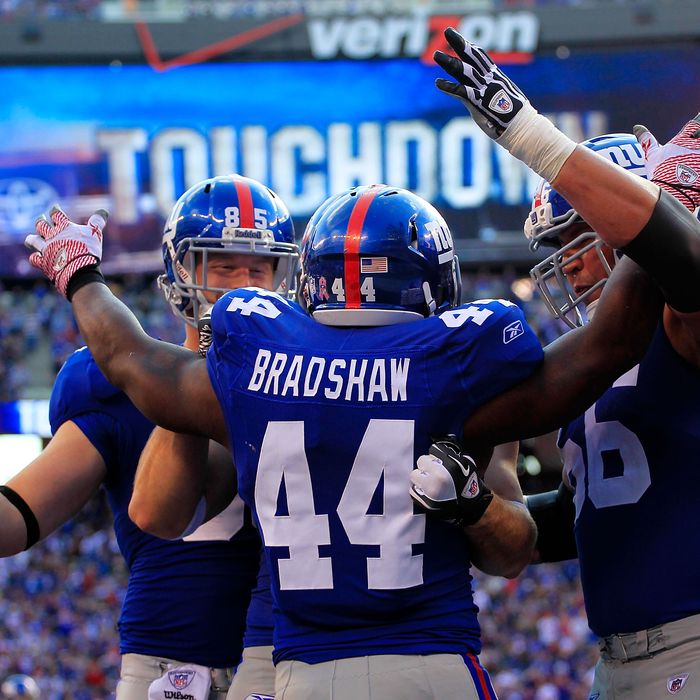 Ahmad Bradshaw celebrates a touchdown yesterday.
Last week, the Giants lost a home game they should have won — one in which they had a great opportunity to pull out in the final minutes. It was the kind of game you fear late in the season, when one more win can mean so much in the standings. But yesterday, needing a win to avoid slipping back to .500, they finished strong against a better opponent and defeated the Bills 27-24 at MetLife Stadium, sending them into the bye with a solid 4-2 record.
Eli Manning may not have thrown for 400-plus yards in this one, but he led a much more balanced attack on a day the Giants didn't turn the ball over once. Ahmad Bradshaw had a big day, rushing for 104 yards and scoring three times — once in each of the first three quarters. Still, the game was in doubt until the final minutes of the fourth quarter: With the score tied at 24, Ryan Fitzpatrick drove the Bills to the Giants 27, when Corey Webster intercepted his second pass of the day at the Giants 4-yard line. And that play swung the momentum back in the Giants' favor.
The ensuing Giants drive wasn't necessarily perfect — again, they took a late false-start penalty (and again, at home!), and despite having 2nd and 1 at the Buffalo 1-yard line, they'd muster just a field goal — but it gave the Giants the lead, and the defense stopped the Bills on the final drive to seal the Giants win.
The Giants have to be pretty pleased with their record heading into the bye week. And the NFC East looks surprisingly wide open right now: The Giants are atop the standings at 4-2, Washington's second at 3-2, Dallas is third at 2-3, and the Eagles (who we would still not count out) are in last at 2-4. When the Giants return from the bye, they'll face the currently winless Dolphins, and then begin their toughest stretch of the season: on the road at San Francisco and New England, home for the Eagles, on the road in New Orleans, and then back home for the Packers. But that's a few weeks off still. Right now, the Giants have a 4-2 record heading into the bye, which is followed by a very winnable Week Eight game. Especially considering all the negativity surrounding the Giants heading into the regular season, that's not bad at all.