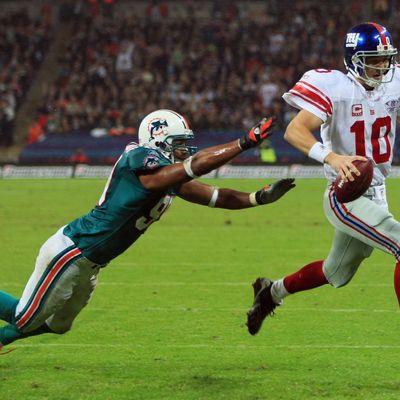 Eli Manning and Jason Taylor, in London, back in 2007.
The current combined records of the five teams the Giants will face in Weeks Nine through Thirteen is 24-8 — and that includes a game against the disappointing 2-4 Eagles. But first comes Week Eight, and considering what the Giants have ahead of them, they deserve a game against a weak opponent. They deserve a game that, if all goes according to plan, shouldn't involve much drama. Quite frankly, they deserve a game against the Miami Dolphins.
The Dolphins, of course, are one of the league's three remaining winless teams. More than one Dolphins player has said he doesn't appreciate the suggestion that they'd be better off if they kept losing so as to try for the first pick in next year's draft. But all that really means is that they're not, as the saying goes, sucking for Andrew Luck. They've just sucked because they aren't very good. They've already lost one game at MetLife Stadium this month. There's no reason they shouldn't lose another.
Not that the Giants have been so dominant this year that they should be taking any team lightly, but wins are about to become a lot harder to come by. They're coming off a bye, and before that picked up a nice win against Buffalo. So like we said then, the Giants have to be pretty pleased with their record: As of today, they're atop the NFL East at 4-2. A game against Miami gives them a great chance to improve that to 5-2, before traveling to New England in Week Nine, but we really shouldn't look ahead that far. There's business to take care of on Sunday first.