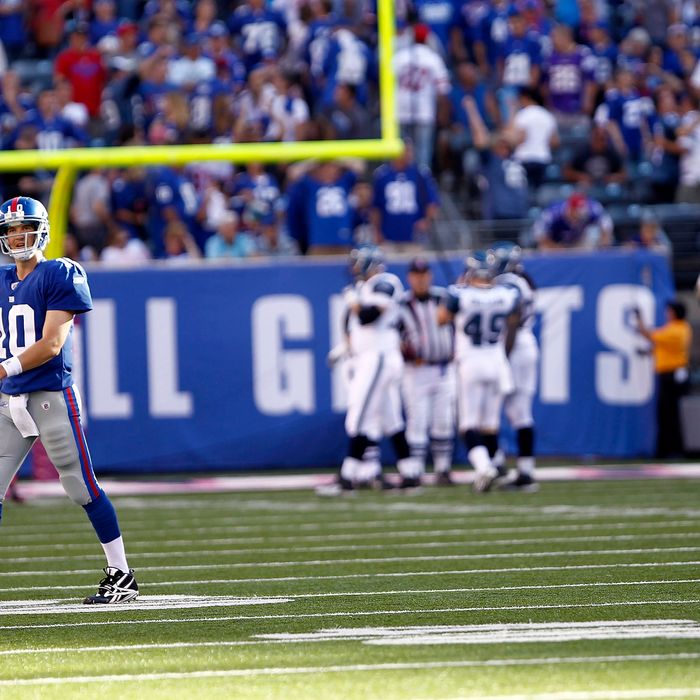 Yesterday's Giants–Seahawks game was hardly a thing of beauty: Even before the final two minutes of the fourth quarter, the Giants had turned the ball over three times to a Seattle team that had been on the money end of just two turnovers through the first four weeks of the season. Seattle, too, had turnover issues, giving up the ball three times —  twice inside the red zone. But a sloppy win counts all the same in the standings, and the Giants appeared to be headed towards one, thanks to one final drive from Eli Manning —  one that would have given the Giants a late lead, and capped a career passing day for Manning.
After Charlie Whitehurst led the Seahawks' no-huddle offense to a touchdown late in the fourth quarter —  have we mentioned yet that starter Tarvaris Jackson left the game with an injury? —  Eli and the Giants got the ball back with 2:37 remaining, down by three. But Manning has always been comfortable in these situations: He'd even led the Giants 59 yards in 40 seconds to even the score before the half.
And so the Giants started driving, and kept driving all the way into the red zone, with plenty of time remaining. Save for a false start penalty that pushed them back five yards, all seemed well with the two-and-a-half-minute drill … right up until the Giants were no longer driving. The gods of tipped footballs had smiled upon Victor Cruz earlier in the quarter, leading to his circus catch and subsequent touchdown. But the gods of tipped footballs giveth, and they also taketh away: After Cruz slipped a little, Manning's first-and-goal pass was too far out in front of Cruz, and though he got his fingers on it, the ball bounced around and into the hands of Brandon Browner, who returned it 94 yards to seal the game. Manning had thrown for a career-best 420 yards on the day, but he also lost a fumble, and threw three picks (one of which came on a desperation drive once the game was already out of reach). The second of the three interceptions — the one meant for Cruz inside the red zone —  proved to be the costliest.
The Giants are about to enter a difficult stretch in which they'll play three of their next four games against teams that currently have 4-1 records. But a win yesterday against a Seahawks team they had no business losing to at home — against a team that had lost eight straight games in the Eastern time zone — would have given the Giants a 4-1 record as well. So consider yesterday an opportunity wasted. Buffalo — one of those 4-1 teams — is up next, Sunday afternoon at the Meadlowlands.