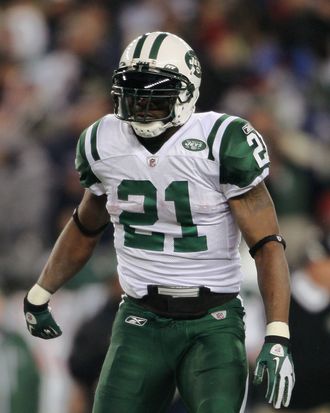 A few members of the Jets have some familiarity with this week's opponent, the Chargers, and we've been reminded of it plenty. Rex Ryan, as is his wont, made headlines earlier this week after imagining aloud a fictional history in which San Diego hired him in 2007 and he led them to the promised land and so forth. Ryan's comments were typically loose, and perhaps tactless, and the minor uproar thereafter was also to be expected. It's a familiar cycle of quipping, reacting, reacting to the reactions, and forgetting that happens in advance of pretty much every game. The fact remains, though, that Ryan doesn't shy away from these subplots, and that'll extend right on down to the playing field this week. 
In his first game against the team with which he became a star, LaDainian Tomlinson will get the start. Tomlinson himself has downplayed the decision, and it's undoubtedly a symbolic move, albeit an interestingly timed one. Though the Jets insist it's no big deal, Shonn Greene has struggled of late. And while Greene should still get the majority of the carries against the Chargers, Jets blog Gang Green Nation wonders if Tomlinson will begin to take on a bigger role, citing his season-high seven rushes last week, including some in which it "looked like he was getting carries at Greene's expense." (GGN, for the record, would prefer that any footballs wrested from Greene's hands be given to Joe McKnight, not Tomlinson.) So, there's a chance that Ryan's somewhat gimmicky move this week might have substance. Or, you know, not at all.
Meanwhile, these familiar Chargers make a curious opponent. Their impressive 4-1 record is rendered slightly less so by the quality of their victims (the Vikings, Chiefs, Dolphins, and Broncos, who are a combined 4-27 right now) and their narrow margins of victory (an average of 6.25 points in those games, if my abacus doesn't deceive me). The New York cornerbacks, including former Charger Antonio Cromartie, will surely lick their lips (or their fingers, maybe) at the prospect of facing Philip Rivers, who's been fairly turnover prone thus far this season. He is, however, getting Antonio Gates back this week, adding another massive individual to his receiving corps. Of course, none of this frightens Darrelle Revis.
Looking ahead, this is the Jets' last game before a bye week. An auspicious outing on Sunday would allow New York to enter that break with a victory against a top team, two straight wins, and a winning record overall. Wouldn't that be lovely?