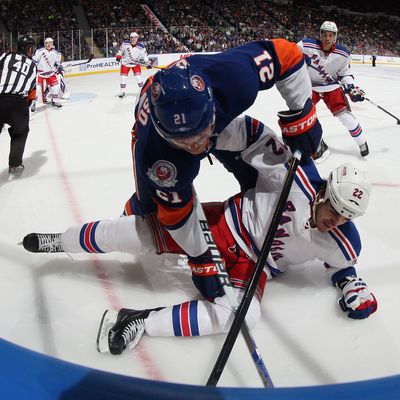 Brian Boyle was called for dubious delay of game penalty Saturday night.
Coming to any grand conclusions about the quality of a hockey team based on just three games is a foolish endeavor, particularly when that team is missing key members of its defensive corps. But this much is clear about the Rangers in the early going, after going 0-2-1 in two games in Europe and one here back in the States: They need to stop taking so many penalties.
The Rangers have been shorthanded nineteen times over the first three games — worst in the NHL on a per-game basis. (Does that number include the occasional dubious penalty call? Sure, but that's still too high a number.) Or put another way, they've been shorthanded an average of 9:40 in those games, second-worst in the league. They've killed off 84.2 percent of their penalties this year, which is fine. Problem is, that still means they've allowed three power play goals so far, and two of them have been game-winners.
So much time spent shorthanded also means not enough time spent at five-on-five, which also means their games don't have much of a flow to them. It's early in the season, and on Saturday night, we liked what we saw from Brad Richards (who has three points in three games), Marian Gaborik (who has two goals in three games), and Derek Stepan (who got a chance on the top line, allowing Brandon Dubinsky to return to the second unit). We'd just like to see more of them, and of all the lines, at even strength.
Look at it this way: The Rangers have spent 18:30 on the power play this year, and 29:00 on the penalty kill, which is the worst differential in the league to this point. Then again, having a power play that starts the season 0-12 doesn't help very much. So actually, make that two things to work on as they head to Canada for the final four games of their early-season international road trip.