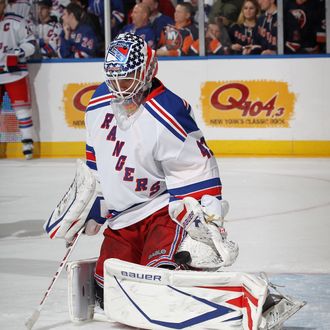 Martin Biron, earlier this month.
Considering the Rangers began their season with seven straight road games in three different countries, and considering that Marc Staal has missed every one of those games and that Michael Sauer has missed five of them, starting the the season with a 3-2-2 record isn't all that bad. This season's been a mixed bag so far: Henrik Lundqvist has been typically stellar and Ryan McDonagh has looked comfortable in the top defensive pairing. But the power play has struggled and the penalty kill has been forced to, well, kill too many penalties. Marian Gaborik has gotten off to a good start — though even he was benched for a time last night. And though Ryan Callahan and Brandon Dubinsky have had their moments — Callahan scored the fluky game-winner last night, and Dubinsky played a key role in setting up the overtime winner in Calgary last week — the second line could afford to be more consistent. Things could be better, but things could be worse, too.
Martin Biron and Ruslan Fedotenko stood out in last night's 2-1 win over the Bieber-approved Winnipeg Jets — two days after John Tortorella told reporters that the Rangers "sucked from head to toe" in Edmonton. And so the Rangers return home on a positive note. Andrew Gross of the Bergen Record wrote last week that by the time the Rangers play Thursday night at the Garden, they'll have traveled more than 16,000 miles. Sure, they got to spend some time in New York between the European and Canadian legs of their tour, but that's a unusual start to the season, nonetheless. The return to New York won't get Staal back any sooner, but in order to establish any kind of home-ice advantage this year, they'll need to actually, you know, play a game on home ice. This is what the Garden looks like these days. On Thursday, Rangers fans will finally get to see it — and their team — in person again.