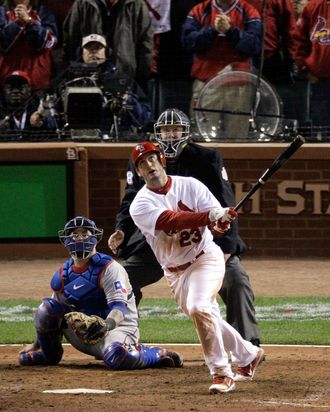 David Freese, last night.
This had been a terrific World Series, even before last night's ridiculous, unforgettable Game Six. On Sunday, Texas shut out St. Louis to even the series at two, and then the next night, they moved to within a game of their first title by beating the Cardinals 4-2. (Boy, did Tony La Russa look old in Game Five.) But then after two days off (one of them scheduled, one of them the result of bad weather), Game Six happened. To quote Will: "If you didn't see it, if you weren't there, it can't possibly be explained to you." But in short, the Cardinals won one of the greatest, craziest World Series games of all-time, and tonight, for the first time in nine years, we'll have a Game Seven to determine the champion of baseball. But what happened this week that didn't involve tributes to beloved cartoonists?
The Jets rallied back to beat the Chargers.
The Rangers' brutal road trip finally ended, but their home opener didn't go so well.
We looked back at the 1986 World Series, from Bill Buckner's error, to the Mets' triumph in Game Seven.
Speaking of that World Series, we explained why the '86 Mets wouldn't beat the '98 Yankees.
And we crossed our fingers that NBA lockout would be over soon.
That's it for now, but do check back in the morning for Will's take on tonight's Game Seven. Enjoy the game, everyone.