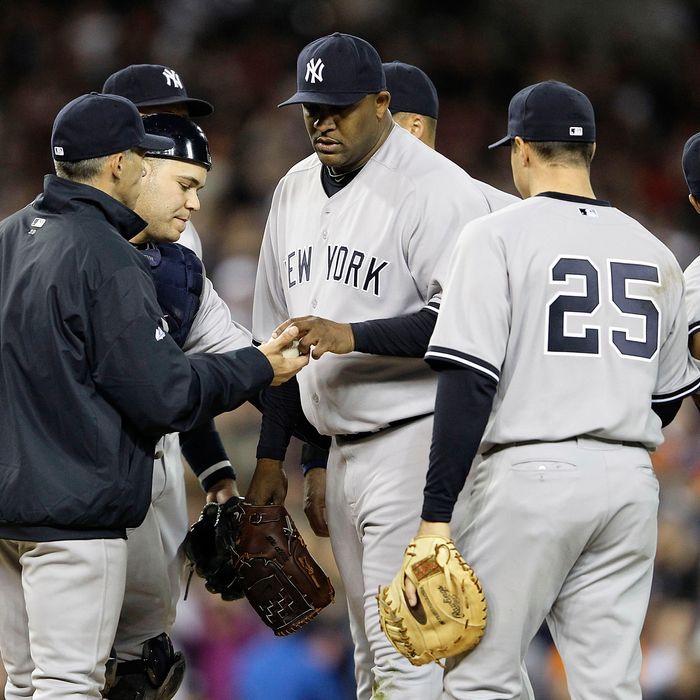 There were times tonight that it seemed amazing the Yankees were even as close as they were, that some sort of cosmic good fortune had foretold a victory: It almost felt fated that they'd win. Justin Verlander was as dominant as a pitcher could be and still gave up four runs — two in the first and two on a wild, where's-your-Eric-Chavez-now two-run Brett Gardner double — and the Yankees had tied the game 4-4 with their much-vaunted (and rested) bullpen set up to take them home. Sure, Verlander would be throwing 101-mph fastballs on his 114th pitch, but even he couldn't pitch forever. The game was in the Yankees' hands, somehow. And then Delmon Young — Delmon freaking Young — ran into a first-pitch fastball from Rafael Soriano, and just like that … the Yankees are in serious, serious trouble.
The Yankees lost a gut-wrenching, pivotal Game Three to the Detroit Tigers tonight, 5-4, thanks to Young's homer, Verlander's general dominance, and a night in which CC Sabathia was good but not quite the ace the Yankees needed him to be. Mostly, Sabathia looked older than he is, even more out of shape than usual … and just not enough. His 5 1/3-inning, four-run outing wasn't the reason the Yankees lost tonight — he gave up as many runs as Verlander did after all — but in this supposed matchup of superstar aces, 5 1/3 innings isn't enough.
Though really: The Yankees lost this game because Soriano threw a pitch that caught too much of the plate to a notorious first-pitch hitter. In the playoffs, one little mistake changes everything, alters whole plans of action for billion-dollar franchises. Delmon Young hits the right pitch at the right time, and the Yankees are suddenly one game from their season being over.
There was considerable drama in the ninth, with Tigers closer Jose Valverde shaky again, and facing Derek Jeter with the tying run on second base. It was a fascinating at-bat, with a gassed Valverde going up 0-2, nearly hitting Jeter in the face with a fastball, barely missing a called third strike on a curveball … and then blowing one last fastball by Ye Captain Jeter. It still seems odd that Valverde is a professional athlete; look at him. Jeter's strikeout, by the way, leaves him at .267 for the series and 0-for-5 with runners in scoring positions. That's still better than Alex Rodriguez and a particularly weak-looking Mark Teixeira, who are now a combined 1-for-21 in the series. At least A-Rod is hurt.
Now, all told, in a macro sense, this doesn't necessarily have to be a time to panic. The Yankees still have a vastly better lineup than the Tigers, they're facing an eminently hittable pitcher tomorrow in Rick Porcello and, if it comes down to it, they are primed at this point to score about 50 runs in the ninth if Valverde comes back in. All the Yankees need to do is win tomorrow, and they'll be back in the Bronx on Thursday with their crowd roaring. The Yankees should be the favorite in every way tomorrow. But then, you remember: It's A.J. Burnett tomorrow night. With the whole season riding on him. With a Tigers crowd eager to get in his head. The Yankees aren't done. But you look at that starting pitcher tomorrow … and it's hard to blame you for thinking they are.