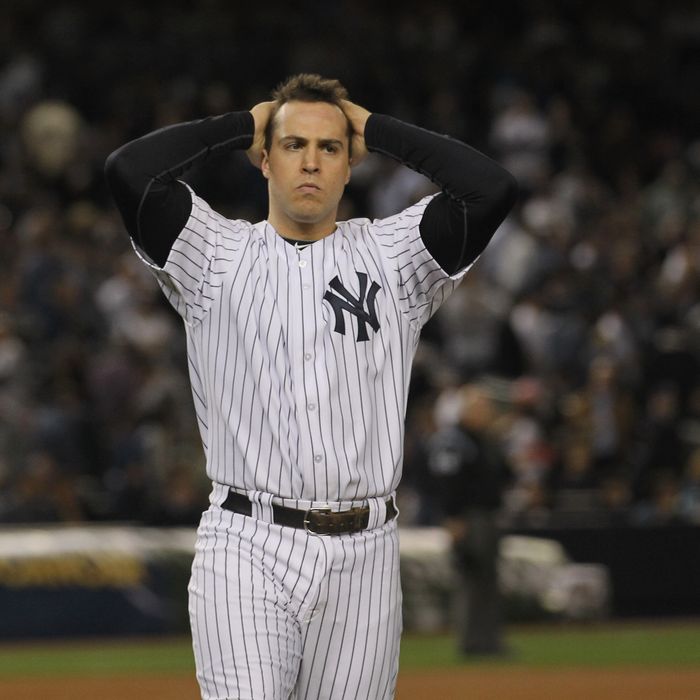 If the Yankees had to be down one run heading into the bottom of the ninth inning of the deciding fifth game of the ALDS, they could have not asked for a better setup in such an uncomfortable situation. Not only did the Yankees have Curtis Granderson, Robinson Cano, and Alex Rodriguez coming up, they were facing Jose Valverde, the Tigers closer who hadn't blown a save all season but looked primed and ready for his first one sometime this series. The Yankees had done everything but beat Valverde this series, and boy was Valverde ever due. It was all the Yankees could have possibly hoped for. That is, other than that little detail of the one-run deficit. And nobody told Valverde he was due.
Thus, Valverde promptly shut down the Yanks' sluggers in order, ending the game on a strikeout of — of course — the cosmically doomed Alex Rodriguez, and the Tigers beat the Yankees 3-2 to win the ALDS, finishing the Yankees' season. It was a taut, unbearably tense night for Yankees fans who seemed so primed for a dramatic finish that the whimper of a 1-2-3 ninth was almost cruel. But not nearly as cruel as having poor Rodriguez up with two outs in the ninth. Rodriguez had struck out with the bases loaded in the seventh inning, leading — of course — to more boos, and by the time he came to the plate against Valverde, the stadium wasn't so tense anymore: A-Rod was fated to strike out, and he did. You can talk about clutch and choke and overpaid and whatever you want, but Rodriguez is quite obviously hurt, and the fact that he isn't saying so, and the fact that he's Alex Rodriguez Who Chokes in the Postseason (though he doesn't), doesn't mean he isn't. It all just seems to find him sometimes, doesn't it? 
The first question Joe Girardi faced during his postgame press conference was about his decision to take Ivan Nova out after two innings, and it's worth noting that, other than A-Rod, that's how this game's gonna down in history: As the game Joe Girardi made a crapload of pitching changes. Girardi has managed jittery all series, so when he pulled Nova once he was starting to settle — after giving up homers to Don Kelly and Delmon Young in the first inning — that was the first thing everyone thought: Girardi's freaking out. It turned out that Nova was had a "tightness" in his throwing arm — a diagnosis that was treated with skepticism by many, as if Girardi somehow decided to rewrite a narrative in the fourth inning with a lie rather than, you know, managing a baseball game — and Girardi was off to work.
Just about everybody got in this game: The Yankees had seven pitchers in all. And if the Yankees had won, you could make an argument that Girardi's moves were brilliant. After all, the Yankees bullpen threw seven innings and notched five hits, two walks, and ten strikeouts, and gave up only one run. (For all the talk about Girardi's apparent panic, it's worth noting that there was a solid rationale for emptying out the bullpen early; Fangraphs made the case just this afternoon that Nova should just go through the lineup once and let the pen take care of the rest. Obviously, Girardi spent the afternoon refreshing Fangraphs until they gave him his strategy.) That one run was given up by CC Sabathia in the fifth. It ended up being the deciding run.
No, the Yankees lost tonight because of their vaunted lineup: The Yankees left eleven men on base and just couldn't come up with the big hit. (Their runs came on a solo homer and a bases-loaded walk.) It's difficult to blame Yankees management, or Girardi, for that: The Yankees lineup has been chipping away at pitchers like this all season, and eventually they break through. Except tonight they didn't. Tonight, they were 0-for-7 with runners in scoring position. That's how you lose one-run games when your bullpen pitches so well. And that's how your season ends. The Yankees don't need to make any major offseason fixes based on this game, or this series. None of the supposed flaws the Yankees had — the rotation's depth, mainly — jumped up and bit them. They just didn't get the big hits when they needed them. It happens. There's no reason to blame anyone, or to overhaul anything. The Yankees were fine. They just lost a tight series. It happens. That will be little solace when the Yankees and their fans watch the Tigers play the Rangers in the ALCS, however, and it will be little solace during a long, cold winter.