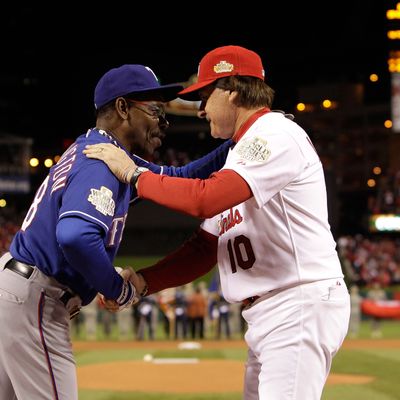 There are so many things going on with Game Six of the World Series tonight — which, unlike yesterday's game, is highly unlikely to be postponed by rain — that I'm shaking just typing this. This could be the night the Texas Rangers win their first World Series. In FAR MORE HISTORIC AND IMPORTANT MATTERS, this could be Albert Pujols's last game as a Cardinal. This could be Tony La Russa's last game as manager of the Cardinals. (Say what you will about Pujols, but TLR has been in St. Louis longer. This is his sixteenth year in St. Louis. In baseball terms, that's essentially Paterno-esque.) This could be the end of the baseball season. It could all be over tonight … or it could all fold over into something beautiful tomorrow.
To reach a Game Seven in the World Series is rare. In the last 30 years, there have been seven, three of which have featured the Cardinals (a win in 1982 and losses in 1985 and 1987. It was very stressful being a Cardinals fan in the eighties). We haven't had one since 2002, when the Angels and their damn rally monkey beat the Giants. There was one the season before that, but let's not talk about that one, except how it saved us all from 9/11. Thanks, baseball.
Baseball is due for a Game Seven. A Game Seven needs to happen. It is perhaps of note that had the Cardinals won Game Five, thus having a 3-2 series lead rather than facing a 3-2 series deficit, I would absolutely not be saying this.
(You can in fact make a strong argument that not only should the Cardinals be ahead in this series … they should have already won it. The only game in which the Rangers obviously outplayed the Cardinals was Game Four. Sigh)
Anyway, for a Game Seven to happen, the Cardinals gotta win. The game begins at 8 p.m. tonight and features Jamie Garcia for St. Louis against Colby Lewis for Texas. Garcia has been the Cardinals' best pitcher at home this postseason, giving up just four runs in eighteen and two-thirds innings in his three home starts. Unfortunately, the Cardinals have lost two of those three games.
I have no idea what's going to happen tonight, only that I am actively scared for the game to start. One thing I do know, though, is that no matter what happens, Tony La Russa and Ron Washington are going to be front-and-center for all of it. This series has Albert Pujols and Josh Hamilton and Lance Berkman and Mike Napoli and Matt Holliday and Nelson Cruz, and all anyone — myself included — has talked about all series are the managers. October baseball is so crazy. I'm not ready for it to end yet.