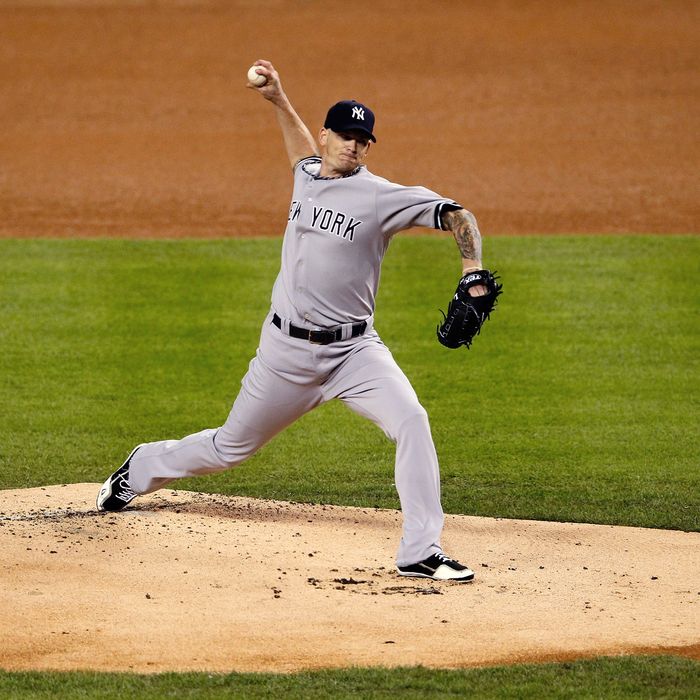 So, how about that A.J. Burnett? Last night, he helped save the Yankees' season with a strong outing — one that looks even stronger when compared to what CC Sabathia, the team's ace, did in Game Three. Obviously, the best news last night was that the Yankees' season didn't, you know, end. But what were the most encouraging things about Burnett's night, in particular?
1. He avoided the patented A.J. Burnett Really Bad Inning, then settled down. Did he get some help from his center fielder to get out of that first inning? You bet he did. But just one Tiger reached base over the next two innings, and he also started throwing strikes when he returned to the mound in the second: After throwing 14 of his first 21 pitches for balls (two of them intentionally), he'd throw ten of his eleven second-inning pitches for strikes.

 2. He gave them just enough length. Joe Girardi had his bullpen up more than once last night, because as promised, Burnett was on a short leash. One wonders how differently this game would have been if the Cory Wades of the world were counted on to eat up some of the most important innings of the year. Instead, Burnett avoided an ultra-early hook, and came within one out of getting through six, which is sort of the magic number for Yankees starters this season. (Worth noting: If this was a regular season game — i.e., if Girardi wasn't so afraid of pushing his luck — Burnett may very well have pitched even longer.)
3. A potential ALCS start isn't quite so scary now. Yes, the Yankees intended to use just three starters in the ALDS until the weather made that impossible. But if they win tomorrow, they'd need a fourth starter in the next round anyway. And considering that Phil Hughes has been assigned to the bullpen, and considering that Bartolo Colon (who isn't even on the roster for this series) finally hit the wall in September, the Yankees would have had little choice but to use Burnett in a potential ALCS anyway. Suddenly, that's not as terrifying as it was 24 hours ago. If nothing else, last night's start will do wonders for the mental health of fans in the days leading up to his next start, if the Yankees advance. 
There's also this:  If Burnett had lost, and especially if he'd lost in an ugly fashion, and especially if his outing in that loss ended with a first-inning inside-the-park grand slam (a scenario worse than anything we'd feared heading into the game), it would have been an awfully long off-season. Given the build-up to this start, we're not sure how he'd have recovered from being the goat in the game in which the Yankees were eliminated. Look, five and two thirds innings doesn't change what's already been done this year and last, and doesn't mean his next start will be just as strong, whether that comes next week or next April. But Burnett badly needed to remind folks that he's still capable of pitching well in a big situation, and last night, he did. He proved his doubters wrong, and surely his doubters couldn't be happier about it.
He also made sure to recognize the guy who stood by him all along. Via the Times:
Burnett also gave Girardi, his most ardent supporter during his tenure with the Yankees, a little pat on his backside with his glove.

"That's probably the first time I've ever smacked a manager on the butt," Burnett said. "I didn't know I did it. It was probably a little thank you for all the stuff he's done for me." 
Finally, though, Yankees fans have a reason to say thank you to Burnett. Should you see him outside Yankee Stadium tomorrow, however, we'd advise not to show your thanks with a smack on the butt. A simple "way to go, A.J." will do the trick.