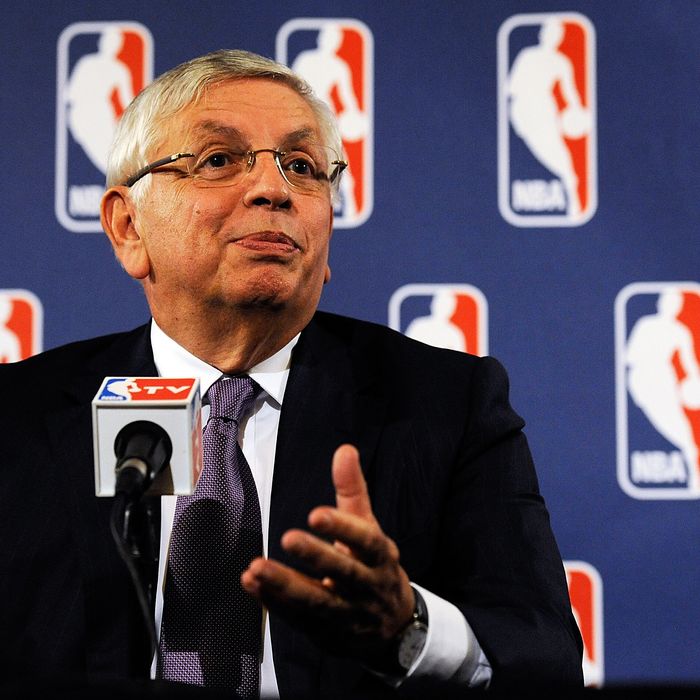 Please just end this thing, Mr. Stern.
The day has come. The day has come before, but now it's come again. After two consecutive days of knocking out "system issues", the NBA and players' union are ready to sit down and try to split the cheese. Again. Sharing basketball-related income has been the biggest and most contentious issue, and it's usually been the one that drives grown, successful men to behave like petty pre-teens over the last few months. But they'll be back at it today, and if things go well, a resolution (and something at least vaguely resembling a full season) is not out of the question. For now, those in the room are saying the right things.
From Ken Berger of CBS:
"I can't tell you we've resolved anything in such a big way, but there's an element of continuity, familiarity and I would hope trust that would enable us to look forward to (Friday), where we anticipate there will be some important and additional progress or not," Stern said in a news conference Thursday night after a 7 1-2 hour bargaining session at a luxury Manhattan hotel.
Stern also reportedly shouted "tomorrow!" from the back of the conference room when Billy Hunter was asked when the day to make big moves was. So, all this is adorable and encouraging, but there remains the possibility that the owners enter the room supposedly ready to bargain, then refuse to budge from their demands (like extending the players just 50 percent of the BRI). Stern could very well emerge tonight with zero progress to report and remind the press that he distinctly said "or not", then ride off into the horizon atop a scaly she-dragon, cackling all the while. The two sides have had such streaks of caprice, and even malice, that you just shouldn't take them at their word until a new CBA is signed and sealed (and, I suppose, delivered).
Thus, the motto remains: Cross your fingers, but don't hold your breath. Things are looking up, but we've seen how quickly they can turn.