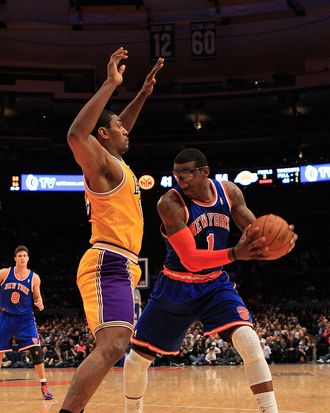 There isn't much going on in the way of NBA labor negotiations at the moment. The league and players' union met for a few days last week, made a little bit of progress, then parted ways to go do whatever it is that rich people do when they're not doing their jobs (mermaid-clubbing, space snooker, ocelot derbies, etc.). There have been private discussions and the like, but nothing — at least nothing we've heard about — of any substance. In the meantime, the NBA is expected, per a report from the Daily News, to announce the cancellation of basketball through November 28. Recall that the first two weeks have already been dropped, so this would make it almost a full month of quiet. The air will chill, the trees will go bare, and we still won't have pro basketball to keep us warm and entertain us over leftover turkey. Woe is us.
Canceling the season's first two weeks stripped seven games from the Knicks' 2011-2012 schedule, which now pretty much qualifies as fan fiction. The reported cancellations to come will wreak more havoc, although parting with these games is a bit easier to stomach:
November 16: at Denver, 10:30 p.m.
November 17: at LA Lakers, 10:30 p.m.
November 20: at Phoenix, 8 p.m.
November 21: at Sacramento, 10 p.m.
November 25: at New Jersey, 7:30 p.m.
November 26: at Philadelphia, 7:30 p.m.
November 28: Washington, 7:30 p.m.
To recap, that's a late-night West Coast back-to-back featuring Carmelo Anthony's return to Denver and a matchup with the Lakers to start a six-game road trip in the middle of November. That would have been brutal! Go ahead and lock the shit out of those two weeks. (Jokes. I'd rather watch the Knicks lose than not watch them at all. Remind me of this next time the Knicks are getting blown out.)
One important thing to keep in mind is that deleting everything through November 28 does not mean that, in the event of a lockout resolution, the regular schedule would just pick up on November 29. Any abridged schedule would need to be tweaked to assure the same number of games for all teams (including home and away stuff, one would assume). We're still not past the point at which the rumored super-secret contingency plan in which an 82-game schedule begins on December 1 could take hold. That would be simultaneously amazing and nightmarish, but the beginning of December is on deck for the chopping block, anyway, so it's probably not worth much consideration.
This sucks. This just sucks.