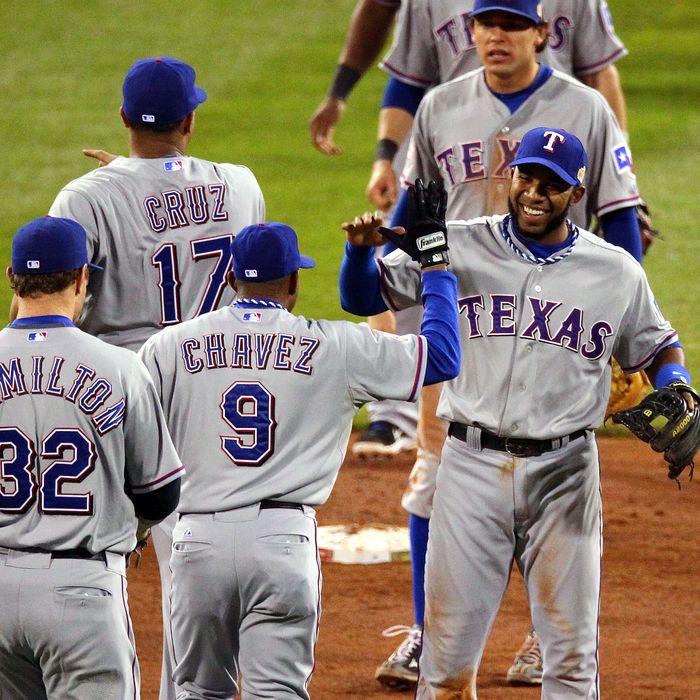 Oh, don't THEY look happy.
It was a surprise to learn that last night's oh boy that happened fast ninth-inning "comeback" 2-1 win for the Rangers over the Cardinals in Game 2 of the World Series was the first time a team had lost a ninth-inning lead since Game 7 of the 2001 World Series. Sorry to bring that up, but that does seem like a long time. You mean to tell me that every single time a team has led after eight innings in the World Series for the last ten years they've won the game? That takes some of the drama out of it, don't it? Well, it did until last night. [Cries.]
Of course, we haven't had a Game 7 of the World Series since 2002, and it kinda looks like we're in for one of those too.
Jason Motte, the fireballing former catcher who might have been born with a beard, really only threw one bad pitch last night, a cutter that caught too much of the plate and was ripped by Elvis Andrus for a single in the ninth inning. This was right after a bloop hit by Ian Kinsler, and right before an error by Albert Pujols sent Andrus to second. Before you knew it, the Cardinals had gone from three outs away from a 2-0 World Series lead to a near-impossible situation: runners on second and third, no outs, and the meat of the Rangers' order coming up.
We agree with those who say Tony La Russa, whose hot streak finally cooled last night, probably should have left in Motte to face Josh Hamilton; more than anything, the Cardinals needed a strikeout, and they were far more likely to get that from Motte, no matter how rattled he might have been, than from Arthur Rhodes, whose fastball could not dent a Buick. But it's not as if Rhodes and Lance Lynn, who came in after Rhodes gave up a sac fly to Hamilton, were lit up. They each gave up sacrifice flies, and that was all the Rangers needed. By the time La Russa made the switch from Motte, the damage was done.
The real problem wasn't the bullpen, as much as it feels like it this morning. (For the record, it also feels like my brain is engulfed in flame this morning, as I type. October baseball, with the late nights and the screaming and the alcohol that comes with it, is hazardous to vital organs.) The problem was the fact that the Cardinals couldn't hit. Jaime Garcia threw seven brilliant shutout innings, but the Cardinals couldn't get him more than one run against Colby Lewis, a solid but hittable pitcher. Albert Pujols didn't stay and answer questions after the game — a practice that annoys media people and only media people; no one else cares, at all — but his 0-for-4 night wasn't the only Cardinals issues. Pujols, Lance Berkman, Matt Holliday, and Yadier Molina, the Cardinals' four All-Star hitters, went a combined 1-for-13 last night. The only run scored thanks to another pinch hit by Allen Craig off Alexi Ogando; you'll be seeing a ton of Craig when the series gets to the American League tomorrow. But the Cardinals can't expect to win with those four guys going 1-for-13. That's what cost the Cardinals last night. Motte just caught some bad luck … and threw one bad pitch.
If you have been enjoying these tight, taut, quick, low-scoring games, that enjoyment is about to end. The series heads to the launching pad — such a great baseball term, "launching pad" — and features some league-average starters facing some of the best hitters in baseball. The level of offense in this series is about to increase exponentially. As is the level of tension. The series, so close to a 2-0 Cardinals lead, is tied, and it's gonna be a damned opera every freaking night for the next week. We're in for an all-timer here, folks. It's not going to be easy for anybody. Gird your livers.
Ed. note: That was a rough one, guys. I need something to get me excited again. How about this video? Yeah! No? Yeah, no. Yeah, probably not.