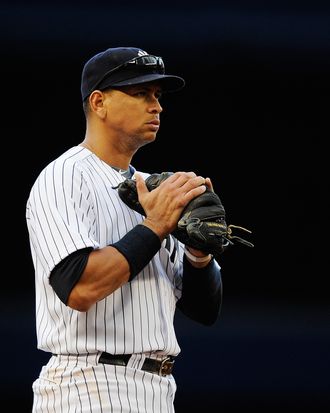 When Alex Rodriguez popped out to second with one out and nobody on in the eighth inning yesterday, he heard boos as he returned to the Yankees dugout. Through two games, A-Rod hasn't done much with the bat: In Game One, he went 0-for-5 with two strikeouts, picking up an RBI on a first-inning ground out. Yesterday, in Game Two, he went 0-for-3 with a walk.
But there's an added wrinkle to A-Rod's struggles in this series: It's not so much a question of whether he can hit in the clutch — we think the 2009 postseason proved he can — but a question of whether he can physically hit at all right now. A-Rod isn't making any excuses for himself, but it's a fact that he's had issues with his knee and thumb this season. And while Joe Girardi insists that the knee soreness that kept him out of the season finale was no big deal, it's fair to wonder what exactly Rodriguez is playing through right now, considering that he doesn't look like himself at the plate. (Keep in mind, he also hit just .191 in nineteen regular season games after coming off the disabled list on August 21.) To be honest, if A-Rod isn't 100 percent, dropping a banged-up A-Rod down in the lineup this year would make more sense than dropping a struggling A-Rod to eighth did in 2006, not that we expect Girardi to actually do it.
Yankees fans can be excused for being frustrated yesterday: Their team didn't have a hit until the sixth inning after all. But we really did think the days of booing A-Rod were over. Look, he's not the only established player on this team that fans are willing to boo, but he's certainly the most accomplished of them. Fans demand that A-Rod prove himself over and over again, even after the two MVP awards he won here, and even after the 2009 World Series run. And so, fair or not, he becomes something of a scapegoat. The star player that fans have always been comfortable booing is struggling more than anyone. Now that we think about it, those eighth-inning boos were inevitable.
Here's A-Rod, after the game:
"There's no need to even get emotional," he said. "Again, it's one pitch at a time. One big hit can change this whole series around. You really have to stay in the moment. Like Phil Jackson, you have to go into a little bit of a zen mode." 
We're not sure that failing to "stay in the moment" is A-Rod's biggest problem right now. ("Swinging late on fastballs" would seem to be the bigger concern.) But he's right about one thing: One big hit could turn this series around for the Yankees, and for A-Rod, particularly heading into what may very well be a pitchers' duel in Game Three. But while he might still have time to turn this around, whether his body will let him is a different question entirely.