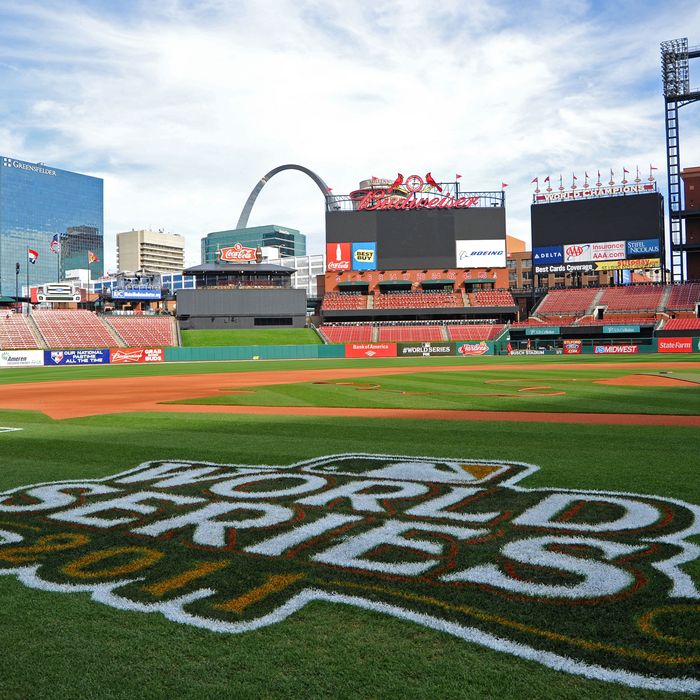 It is not actually this sunny in St. Louis right now.
Game Six of the World Series is supposed to begin at 8 p.m. tonight, but that time should probably be in quotes. It's miserable in St. Louis right now — no joking that it's always miserable in St. Louis, people! — and it's supposed to start raining in about three hours and not stop until past midnight. Rumors that a 2 p.m. meeting would end up canceling the game were unfounded, but it's not looking good. I hope you will forgive me if I say that I will not be devastated if it is, in fact, rained out.
First off, yesterday's off-day was, frankly, not nearly enough goddamned time to deal with the nightmare that was Game Five. (And now even the hometown columnists are, in typical reasonable fashion, asking if Tony LaRussa was somehow overmedicated in the eighth inning.) And, more practically, a rainout would give LaRussa more pitching options for a potential Game Seven on Friday night, including the possibility of Chris Carpenter on three days' rest.
But more so: I don't know about the players, but I need another day off. This is harmful for the spirit, not to mention the liver.
It's possible that they might pull out this game tonight anyway. B.J. Rains of Fox Sports Midwest was tweeting just in the last fifteen minutes that local St. Louis weatherman Mike Roberts thinks the game will get in:
Mike Roberts from Channel 5 tells us they would play if it was a regular season game. Will just be mist, spotty light showers. Could be short, spotty rain showers, but no major, long extended rain expected tonight for Game 6. Also told us that a much better idea on the weather would be known by 4-5pm when front develops. Might benefit them to wait.
If you can't trust local weatherman Mike Roberts from Channel Five, then whom can you trust?
This might end up one of those games that no one thinks is going to be played and then, next thing you know, it's 7:45 and the tarp's off and they're getting ready to start Game Six of the World Series. I am not prepared for that. Most Cardinals fans aren't. We all needed another day of rest. We are not ready. We are not yet healed.
(Update: It's rained out. Yay!)