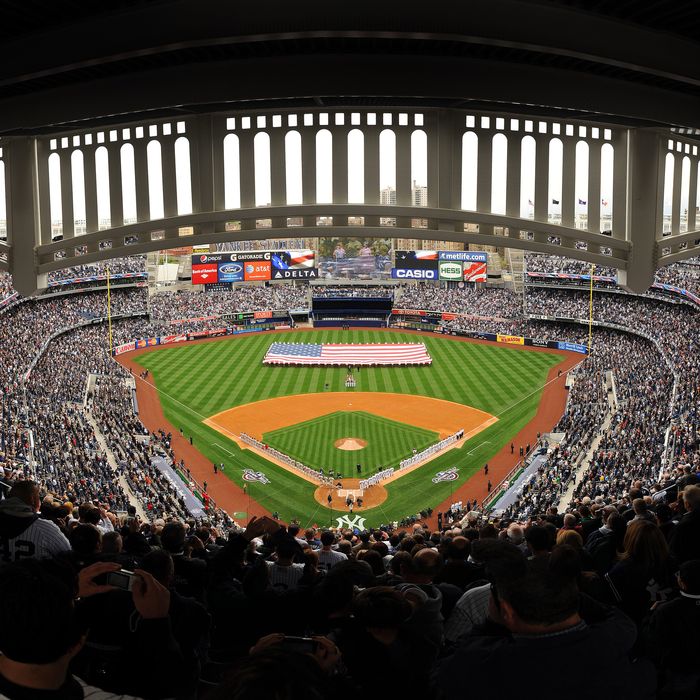 Not the happiest place tonight.
(We've had all kinds of technical issues tonight, so we apologize for the lateness of this recap. We swear it was done within minutes of Game Two ending. Anyway, pretend you just watched the game.)
In the bottom of the seventh inning, the rally Yankees fans had been waiting all game for, the one they had to just assume was coming, began to materialize. Max Scherzer, pitching the best game of his career, had given up just one hit against the Yankees but was beginning to tire, walking Nick Swisher to lead off the inning and then giving up a single to Jorge Posada. The Yankee Stadium crowd, a bit dazed since a first-inning two-run homer by Miguel Cabrera, stirred to its loudest point, even lustily booing Scherzer as he walked to the dugout after being relieved. (Really, the ultimate compliment.) Russell Martin came to the plate. The Tigers were up 4-0, but the Yanks had the first two batters on and its perpetual lineup motoring. All was primed. And then it started to rain.
What had started out as a clear, if chilly, afternoon, around 5:20 p.m., suddenly turned into a downpour. Before the Yankees even had time to register that Joaquin Benoit – one of the Tigers' best relievers – had come into the game, raindrops were attacking from all directions. Fans ducked for cover, Derek Jeter scowled and grimaced and any momentum the Yankees had was washed away. The crowd went from rabid to ducking for cover. Benoit got Martin to fly out, struck out Eric Chavez (who somewhat inexplicably had been sent in by Joe Girardi to pinch-hit for Brett Gardner) and then K'd a soaked Jeter looking, and the threat was extinguished. Other than a Curtis Granderson homer in the eighth and a spunky little rally in the ninth, the Yankees were silent the rest of the night.
You can't blame Freddy Garcia much. His line (5 1/3 innings, four runs) looks worse than it was; after Cabrera's homer, Garcia retired 13 of the next 14 batters he faced. Even the sixth inning, when he gave up two more runs, started off with a Jeter error, and you can make an argument Girardi should pulled him two batters too late. Garcia's real crime was not being Scherzer, who took a no-hitter into the sixth inning and was, as they say, "effectively wild" all afternoon. Forget Justin Verlander: The Yankees should feel fortunate they don't have to that guy again.
Really: If the Yankees give up just even five runs and they're facing a Tigers starting pitcher who isn't Verlander, you've still got to like their chances: As we mentioned last night, wearing down pitchers and scoring runs from up-and-down the lineup is what they do. But the Yankees' offense did nothing today, and the main problem has been the 4-6 hitters, the theoretical meat of the lineup. Alex Rodriguez, Mark Teixeira and Nick Swisher were a combined 2-for-21 in the series before Swisher's ninth-inning homer. That ninth inning sure was something, by the way. Tigers closer Jose Valverde, who hasn't blown a save all year but has surely caused several angioplasties around the Detroit area, had nothing, giving up the homer to Swisher, a triple (a triple!) to Jorge Posada and walks to both Martin and Granderson. The Granderson walk put last night's hero Robinson Cano at the plate as the winning run … and darned if the freaking rain didn't come back again. It briefly helped the Yankees when Tigers catcher Alex Avila slipped while trying to catch a foul ball in the on-deck circle … but it clearly bothered Cano, who grounded out to end the game and tie the series.
That ninth inning excitement, though, was just an inning after Yankee Stadium started booing Alex Rodriguez again. Boy, hadn't you missed that? Great to have that back, really. (0-for-8 in the series so far, by the way.)
So: The Yankees fly to Detroit tonight, and in about 24 hours, we'll get our kinda-delayed Verlander-CC Sabathia matchup. And all of a sudden, this series looks awfully ominous. For the Yankees to advance in this series, two of the following things must happen:
*** They must beat Justin Verlander in Detroit;
*** A.J. Burnett must win a start on the road;
*** A rookie must win a decisive Game 5 with every person on earth who is not a Yankees fan cheering against him.
This series was always supposed to be a tight one, but the Yankees were considered the favorites, and after last night's easy-ish win, all felt comfortable and well. Matters no longer feel comfortable and well. All told, the Yankees are probably still the favorites in this series .. but the next three days are gonna be scary, all. Strap in.