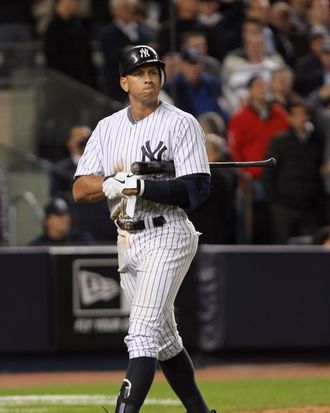 Alex Rodriguez, after striking out with the bases loaded in the seventh.
The Yankees lost last night's decisive Game Five by just one run, and so the morning after, it's impossible not to look back at the opportunities squandered. And there were plenty of them: Last night, the Yankees went just 2-for-9 with runners in scoring position. (Neither of those two hits scored a run, and one of them was Robinson Cano's cheap infield single in the seventh.) In all, the Yankees stranded eleven runners on base last night, twice leaving the bases loaded. And more than anything — more than the back-to-back homers in the first, more than Alex Rodriguez's strikeout to end the game — that's what we'll remember from last night: The most potent offense in these playoffs, wasting opportunity after opportunity.
The Yankees got a runner into scoring position in four innings last night, doing so three times with less than two outs. In the fourth, down 2-0, they had the bases loaded with none out, but Doug Fister escaped by getting Russell Martin to pop out and Brett Gardner to foul out. Then in the seventh, down 3-1, they again loaded the bases, this time with their 4-5-6 hitters coming to bat.
Look, we consider ourselves Alex Rodriguez supporters. We think there are times he's treated unfairly by Yankees fans. But he was brutal offensively in this series, and while it's the image of his game-ending strikeout that's plastered on the back pages this morning, his strikeout in the seventh was the far worse offense. Forget about how A-Rod could have won over the stadium crowd, again, in that situation. When a team is down to its final eight outs, it's hard to care about all the big-picture questions about how a player is perceived, and why he's treated a certain way, and all of that. The only thing that matters is scoring those desperately needed runs, and A-Rod couldn't get it done. A well-placed single could have tied the score. A sac fly could have cut the lead in half. We got neither. We got a strikeout, as unproductive an out as there is.
There's plenty of time now to talk about what happened to A-Rod in this series, and we'll note that the third baseman didn't blame his health for his lack of hitting. (He said after the game that "I was healthy enough to do whatever I needed to do," though we'll also note that's not the same thing as saying "I am totally healthy.") But that at-bat was a killer.
And yet still the Yankees had chances. Mark Teixeira, who also had a dreadful series, at least drew a walk in the seventh, scoring the Yankees' second run. But then, with the bases still loaded, Nick Swisher struck out to end the inning. There would be no further rallies.
We're not going to say this was a horribly cruel ending because, at the end of the day, there are far worse ways to see your season end. (Not to pick on Boston, but just ask any Sox fan.) This was a strange season all around: Expectations weren't as high as usual when the season began (mostly because of questions about the rotation), but the regular season proved to be relatively stress-free, and the Yankees more or less cruised to the best record in the American League. Still, the team had flaws (again, we worried about the starting pitching), and we said two weeks ago that we didn't want them to face the Tigers. When this series began, we figured it would be close, but that they'd lose in five. It's not like we couldn't see this coming. Still, it stings: Not only did they come close, but they had plenty of chances to get the big hit. It wasn't the pitching that did them in last night; it was the hitting. (In their three losses, by the way, they went 3-for-21 with runners in scoring position, and left 26 runners on base.) It was supposed to end; it just wasn't supposed to end quite like this.
Oh, and if we never hear this goddamn song again, it'll be too soon.